Nae fracking here! SNP govt imposes shale gas moratorium in Scotland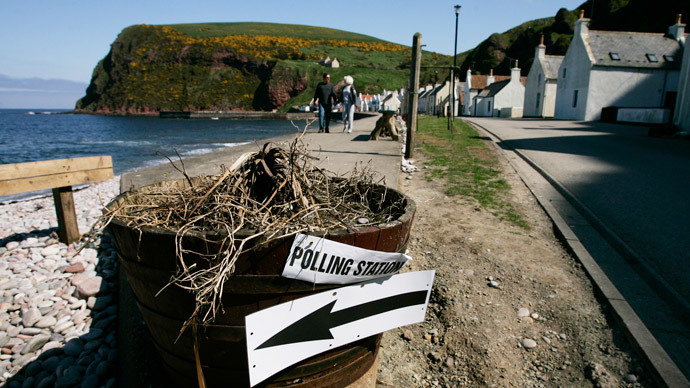 Scotland has imposed a moratorium on shale gas planning permits while an assessment on the impact of shale drilling is completed, ministers told the Scottish Parliament on Wednesday.
Energy Minister Fergus Ewing told Holyrood MSPs that an investigation into the effects of fracking for shale on public health and the environment had been launched and they would not be issuing any permits until its completion.
"We are imposing a moratorium on granting planning consents," the minister, a member of the Scottish National Party (SNP), said.
While there are no current plans to extract shale in Scotland, the moratorium also means none will be approved until it is lifted.
READ MORE:Frackdown: Government concedes to national park fracking ban
Scotland is estimated to have reserves of around 80 trillion cubic meters of shale gas, which would be enough to provide Britain with gas for more than 30 years.
The Scottish moratorium comes only days after some English MPs attempted to impose a similar measure in the House of Commons.
A cross-party committee presented a paper to the Commons which expressed concerns that plans to frack were ecologically and economically unviable, as well as potentially damaging to public health.
Their report was accompanied by an anti-fracking demonstration outside Westminster Palace, attended by Green Party MP Caroline Lucas and campaigner Bianca Jagger.
While a moratorium was not passed, the government announced Tuesday it had conceded to some of the moderate compromise proposals put forward by the Labour Party and announced that fracking would be banned in all national parks.
Further restrictive measures were also placed upon shale gas companies, they said.
READ MORE:Fracking moratorium rejected as protesters descend on Parliament
The regulations represent a significant U-turn on previous government policy, which Prime Minister David Cameron claimed was going "all out for shale."
Caroline Flint, Labour's Shadow Energy Secretary, claimed the new measures were a "big victory."
"This is a huge U-turn by the government and big victory for the protection of Britain's environment.
"Labour has always said that shale gas extraction cannot go ahead unless there is a system of robust regulation and comprehensive inspection, but David Cameron has repeatedly ignored people's genuine and legitimate environmental concerns over shale gas," she added.
A spokesperson for the Department of Energy and Climate Change claimed that although they appeared significant, many of the changes were already part of policy.
"[The measures] are already government policy, carried out voluntarily by industry or as part of Environment Agency or HSE every day working practice."
"We have agreed to accept this amendment, to provide clear reassurance in law, and to give this nascent industry has the best possible chance of success," the spokesperson added.
Cameron has insisted he is committed to expanding the UK's shale gas industry. On Monday he said, "I want to see unconventional gas properly exploited in our country."
You can share this story on social media: