Frackdown: Government concedes to national park fracking ban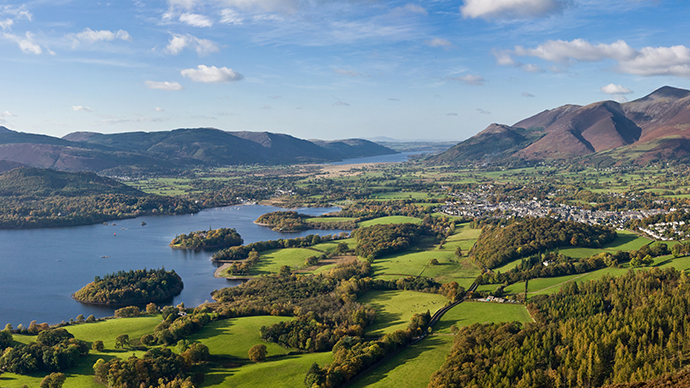 In a victory for the Labour Party and other opponents of fracking, the Conservative-led coalition has announced that fracking will be banned in all national parks. Further restrictive measures were also placed upon shale gas companies.
The announcement of new regulations comes as a cross-party group of MPs called for fracking to be banned completely on Monday.
Their Commons report was accompanied by an anti-fracking demonstration outside Westminster Palace, attended by Green Party MP Caroline Lucas and campaigner Bianca Jagger.
The regulations present a significant U-turn on previous government policy, which Prime Minister David Cameron claimed was going "all out for shale."
Vast areas of national parkland and areas of outstanding natural beauty (AONB) near to groundwater sources will now have a total ban on fracking.
The suggestions from the Environmental Audit Committee to ban all future fracking were not passed, but the new measures are expected to halt the development of the UK's shale gas industry.
Prior to the announcement on Monday evening, the regulations stated that fracking was permissible in national parks and AONB under "exceptional circumstances," but this has now been changed to an "outright ban."
Ministers said other proposals by Labour would also be passed, including making sure companies monitored a potential site for at least 12 months before drilling.
Another accepted Labour proposal states that fracking is banned "within the boundary of a groundwater source protection zone."
Taken at its broadest definition, Labour said it could rule out up to 15 percent of the country, but the government said it would only apply the ban to the narrowest definition, in areas where fracking is also effectively banned already.
The final Labour change means that residents will be individually notified about fracking taking place underneath their land.
READ MORE:Fracking moratorium rejected as protesters descend on Parliament
They cannot, however, protest the drilling work or block its progress.
Caroline Flint, Labour's Shadow Energy Secretary, called the new measures a "big victory."
"This is a huge U-turn by the government and big victory for the protection of Britain's environment.
"Labour has always said that shale gas extraction cannot go ahead unless there is a system of robust regulation and comprehensive inspection, but David Cameron has repeatedly ignored people's genuine and legitimate environmental concerns over shale gas," she added.
A spokesperson for the Department of Energy and Climate Change claimed that although they appeared significant, many of the changes were already part of policy.
"[The measures] are already government policy, carried out voluntarily by industry or as part of Environment Agency or HSE every day working practice."
"We have agreed to accept this amendment, to provide clear reassurance in law, and to give this nascent industry has the best possible chance of success," the spokesperson added.
Cameron has insisted he is committed to expanding the UK's shale gas industry. On Monday he said, "I want to see unconventional gas properly exploited in our country."
You can share this story on social media: