​Human rights warning issued over UK £5.9mn Saudi prisons contract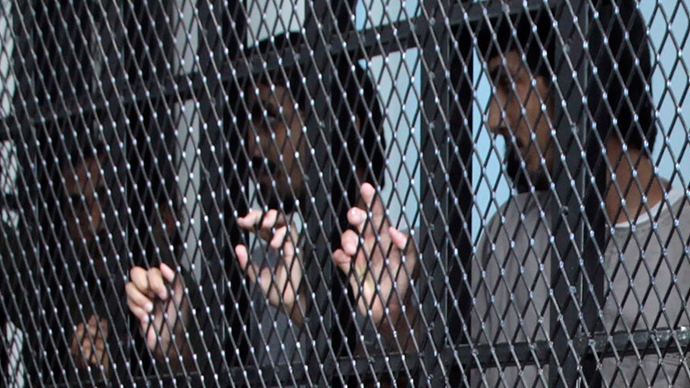 The British Ministry of Justice (MoJ) has submitted a bid for a £5.9 million ($9 million) contract to help run prisons in Saudi Arabia, despite human rights concerns.
The contract is "to conduct a training needs analysis across all the learning and development programs within the Saudi Arabian Prison Service," according to the Guardian.
Just Solutions international (JSi), the new commercial branch of the MoJ, has submitted a bid to the Royal Oman Police to build a prison in Oman. Last year it won a £848,000 contract to support the development of a Probation Service in Macedonia.
This move comes amid criticism from UK human rights groups about the country's justice system.
The MoJ emphasized that all JSi projects had been signed off by the Foreign Office and the local embassy after an evaluation, which also assessed human rights in the country.
However, Saudi Arabia has been criticized for human rights violations - the country is notorious for public beheadings and floggings.
Saudi blogger Raif Badawi was sentenced to 1,000 lashes after he was found guilty of insulting Islam. Badawi is the founder of the "Free Saudi Liberals" website. He was sentenced last year to 10 years in jail and fined 1 million riyals ($267,000).
READ MORE:7 shocking facts about Saudi Arabia under 'modernizing' reign of King Abdullah
Badawi received his first 50 lashes two weeks ago, but the second dose of punishment was postponed for medical reasons.
Allan Hogarth, Amnesty International's UK head of policy and government affairs, told the Guardian: "Amnesty has serious concerns about Saudi Arabia's justice system, given its use of the death penalty, the prevalence of torture in detention, and its use of cruel and degrading punishment. So we need to know – how is the MoJ's scheme going to help improve the situation?"
An MoJ spokesman told the Daily Mail: "It has been government policy for many years to work with overseas governments and help them develop their criminal justice systems, utilizing that knowledge to bring funds to the public purse.
"JSi does not work with countries unless it is completely safe to do so and details of any contracts will be made public when agreed."
READ MORE:British establishment pays tribute to controversial Saudi King Abdullah
All overseas projects run by JSi are intended to raise funds for the National Offender Management Service, which runs prisons and probation services in England and Wales.
At the JSi launch, UK Lord Chancellor and Secretary of State for Justice Chris Grayling said: "We are leading the world in our management of offenders and the reforms we are introducing will push us even further ahead of the pack. I'm proud that countries look to us when they want to improve and develop their own systems."
Prime Minister David Cameron and other British establishment figures have been criticized for paying tribute to King Abdullah of Saudi Arabia, who died last week, without addressing his role in the country's human rights violations.
You can share this story on social media: