​British establishment pays tribute to controversial Saudi King Abdullah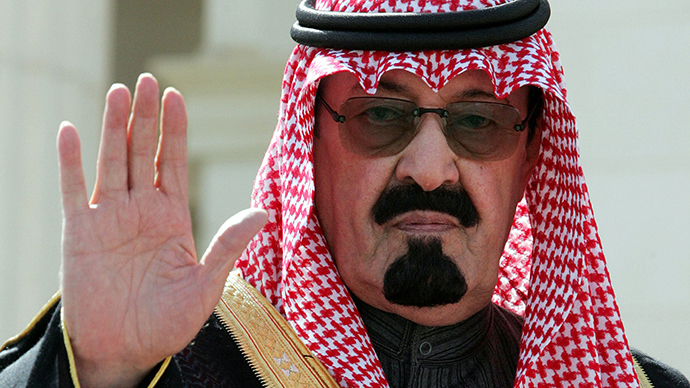 UK Prime Minister David Cameron paid tribute to Saudi Arabia's King Abdullah bin Abdulaziz after the monarch passed away on Thursday. His death has prompted debate over his legacy, and his relationship with the British establishment
Abdullah's death at 90 followed a battle with a lung infection. He has been succeeded by his 79-year-old half-brother Prince Salman.
Thousands traveled to the religious site of Mecca to mourn the king on Friday. Meanwhile, the flag of Westminster Abbey in London flew at half-mast "as a mark of respect," the church said.
The King, who occupied the throne of one of the world's richest countries, is believed to have left four wives and 22 children. King Abdullah was one of the 37 sons of King Abdul Aziz Al-Saud, who created the modern state of Saudi Arabia in 1932.
"I am deeply saddened to hear of the death of the Custodian of the Two Holy Mosques, His Majesty King Abdullah bin Abd Al Aziz Al Saud," Cameron said.
"He will be remembered for his long years of service to the Kingdom, for his commitment to peace and for strengthening understanding between faiths.
"My thoughts and prayers are with the Saudi Royal Family and the people of the Kingdom at this sad time.
"I sincerely hope that the long and deep ties between our two kingdoms will continue and that we can continue to work together to strengthen peace and prosperity in the world."
READ MORE:Saudi King Abdullah dead – state TV
King Abdullah is credited with having pushed through limited women's rights. In 2011 he decreed women should be allowed to vote and run for office in the 2015 municipal elections.
Former UK Prime Minister Tony Blair has also paid tribute. "Despite the turmoil of events in the region around him, he remained a stable and sound ally, was a patient and skillful modernizer of his country leading it step by step into the future," Blair said in a statement.
He cited King Abdullah's achievements in supporting education and his founding of KAUST, the Science and Technology University where women and men are educated equally and portrayed him as an advocate for women.
"Today there are more women in higher education than men. […] He appointed women ministers. He invested in renewable energy. And of course he launched the Arab Peace Initiative in 2002, which has stood the test of time as a potential basis for a solution to the Israeli Palestine issue," Blair added.
The Prince of Wales is expected to attend the funeral of King Abdullah in Saudi Arabia on Friday afternoon. Clarence House officials are reportedly arranging transport to get Prince Charles to Saudi Arabia's capital Riyadh in time for the ceremony.
READ MORE:ISIS, low oil prices, poor health: New Saudi king's challenges
The Prince has been a regular visitor to Saudi Arabia and reportedly considered the king a personal friend. If he attends the funeral, he will be doing so as the representative of the Queen, who no longer makes long distance trips overseas.
Now that King Abdullah has passed away, the Queen, 88, is the world's oldest living monarch. She took the throne at the age of 25. The Queen is also the second longest reigning, behind Thailand's King Rama IX.
Saudi Arabia has repeatedly been accused of human rights violations. Amnesty International cited the case of Saudi blogger Raif Badawi, who was sentenced to 10 years in prison and 1,000 lashes after creating a liberal, secular website, Free Saudi Liberals.
READ MORE:'Wearing Saudi muzzle': UK failing to defend blogger sentenced to 1,000 lashes – Amnesty
His sentence will be followed by a 10-year travel ban, a ban on using media outlets, and a fine of one million Saudi Arabian riyals (£177,450). He still remains at risk of receiving 950 lashes over the coming weeks for "insulting Islam."
In another case, Human Rights Watch (HRW) urged Saudi police to release two women who tried to drive a car from the United Arab Emirates to Saudi Arabia. Lujain al-Hathloul, 25, and Maysa al-'Amoudi, 33, both Saudis holding valid UAE driving licenses, were detained in December for breaking Saudi Arabia's ban on female drivers.
"After years of false promises to end its absurd restrictions on women, Saudi authorities are still arresting them just for getting behind the wheel," said Sarah Leah Whitson, Middle East and North Africa director for HRW.
"The Saudi government's degrading restrictions on women are what bring shame to the country, not the brave activists standing up for their rights."
However, some have raised questions about how much of a reformer King Abdullah really was, given his country's record of human rights abuses.
The late-king was seen by many as a reformer who supported women's rights in Saudi Arabia and tried to balance traditions with modernity. He reportedly had a "genuine and warm friendship" with Barack Obama and was described as the most pro-Western leader in the Arab world.
Obama praised King Abdullah's greater outreach to the international community. "As a leader, he was always candid and had the courage of his convictions. One of those convictions was his steadfast and passionate belief in the importance of the US-Saudi relationship as a force for stability and security in the Middle East and beyond," Obama said.
In 2009, King Abdullah appointed the first female minister. However, men and women are still not allowed to mix in public, and women are still banned from driving cars.
Imagine how the US media would be talking about King Abdullah if he were a US adversary rather than close & loyal "ally."

— Glenn Greenwald (@ggreenwald) January 23, 2015
However, not everybody follows suit in praising the Saudi monarch. Journalist Glenn Greenwald took to Twitter and called King Abdullah a "tyrant."
Can't stop reading these western media obituaries for the Saudi tyrant. One outdoes the other. And: https://t.co/mCHL7a4l70

— Glenn Greenwald (@ggreenwald) January 23, 2015
John Austin, former Labour MP from 1992 until 2010, asked: "What about funding terrorism, beheadings, flogging of journalists and women – I think Tony has a few blind spots!" referring to Tony Blair's condolences statement.
What about funding terrorism, beheadings, flogging of journalists and women - I think Tony has a few blind spots! http://t.co/B4Uyokq1QH

— John Austin (@JohnEAustin) January 23, 2015
Despite pushing through moderate reforms, there are a number of controversial cases which experts say are clear violations of human rights, including the public beheading of Laila Bint Abdul Muttalib Basim in Mecca.
Authorities in Saudi Arabia publicly beheaded the Burmese woman in Islam's holy city of Mecca. The woman who lived in Saudi Arabia was executed by sword in mid-January after being dragged through the street and held down by four police officers. She had been convicted of the sexual abuse and murder of her seven-year-old step-daughter.
Human Rights Watch says: "Saudi Arabia has stepped up arrests, trials, and convictions of peaceful dissidents, and forcibly dispersed peaceful demonstrations by citizens. Authorities continued to violate the rights of Saudi women and girls and foreign workers."
Prince Andrew, a member of the British royal family currently embroiled in an alleged sex abuse scandal, traveled to Saudi Arabia to meet King Abdullah in November last year. The Prince has sought to promote economic growth and job creation in the UK as Britain's trade envoy.
READ MORE:Oil spikes after Saudi king's death
In 2011, Prince Andrew pulled out of a planned trip to Saudi Arabia to boost defense contracts between the UK and Saudi Arabia. He later rescheduled the visit for September.
Since the 1960s, Saudi Arabia has been a major buyer of UK weapons. Saudi Arabia was Britain's biggest arms market in 2013, with the UK government approving £1.6 billion worth of exports, including components for military equipment for initiating explosives, equipment for the production of machine guns and hand grenades.
In 2013, Ann Feltham of the Campaign Against the Arms Trade said of the UK-Saudi relationship: "The problem is not that the UK government is failing to explain its approach to Saudi Arabia to the UK public; it is the approach itself that is the problem. The government needs to put human rights at the heart of its policy towards Saudi Arabia and Bahrain, not the interests of the arms companies."
You can share this story on social media: