​Total madness? Green Party to cut British Army, replace with 'home defense force'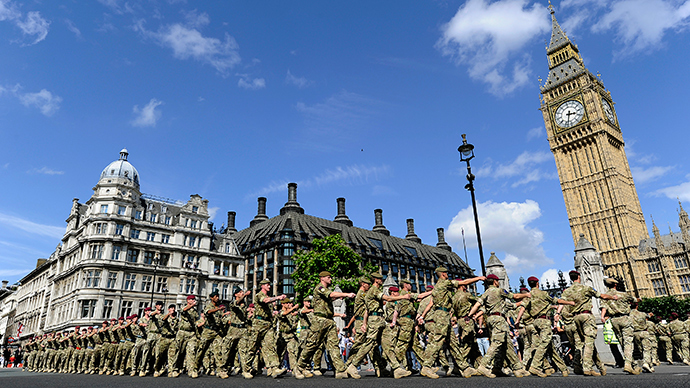 A Green Party victory in the general election in May would see the British Army replaced with a "home defense force," party leader Natalie Bennett has said.
Speaking to the BBC's Sunday Politics show, she also confirmed the UK's nuclear weapons program would be "abandoned."
Important defense decisions would be made after public debate and military activity would only take place through the United Nations (UN).
In a bid to stop "punishing people" for their beliefs, a Green government would also change the law so that membership of a terrorist organization is no longer illegal.
Labour has attacked the policies as being "total madness" and a throwback to the 1970s.
The Greens have seen a surge in support in recent weeks, with the party targeting 22 key seats in the run up to May's election, four of which are currently held by Labour MPs and eight of which are held by Liberal Democrats.
If elected in May, a Green government would abandon nuclear weapons and cut the size of the British Army, Natalie Bennett told the BBC on Sunday.
"We obviously need to defend our own borders, civil defense and we have a real responsibility as a rich country to contribute to UN peacekeeping forces," she said.
Asked if that means creating a new "home defense force," she said "Yes."
According to the party's policy book, the Army Reserves – previously the Territorial Army – would become a body of civilian and military volunteers, such as doctors and engineers, who would engage in international humanitarian work.
A Green government would not lead Britain to war because military intervention "rarely solves the problem, and more often reinforces animosities."
Earlier today @natalieben unveiled our #InviteTheGreens to #leadersdebates poster outside Parliament. Please RT pic.twitter.com/HNzDCDZBO2

— The Green Party (@TheGreenParty) January 19, 2015
Britain's armed forces would only intervene in other countries' affairs through organizations such as the UN or the Organization for Security and Co-operation in Europe (OSCE).
Some army and navy bases would be turned into nature reserves, while the skills and expertise currently "tied up" in military industry, would be used to develop new renewable energy industries.
Green foreign policy would also be accountable to the public, with military decisions and budgets being made available to Parliament.
"Defense decisions by a Green government will only be made after proper public debate based on the provision of the fullest possible information," the policy book states.
Bennett – who is the party's candidate for London's Holborn and St. Pancras constituency – also said a Green government would not make it illegal to be a member of terrorist organizations such as Al-Qaeda and the Islamic State (IS, formerly ISIS/ISIL).
READ MORE:Greens, Scottish National Party, and Plaid Cymru expected to be included in TV election debates
The British government maintains a list of terrorist organizations which are banned by law, with 65 international groups and 14 Northern Irish groups currently classified as illegal.
Bennett explained this policy dates back to when the African National Congress (ANC) – the party which late-South African leader Nelson Mandela once led – was designated a terrorist organization by Western governments.
"What we want to do is to make sure we are not punishing people for what they think or what they believe," she told the BBC.
"Obviously actions of inciting violence, supporting violence, those are absolutely unacceptable and illegal and should be pursued to the full extent of the law," she added.
Good example of Labour accidentally publicising Green Party policies many voters will love: http://t.co/tPhnvMaoU8pic.twitter.com/r9hGOmTVBP

— Jon Stone (@joncstone) January 26, 2015
Labour have described the Green Party's policies as "total madness."
Shadow Education Secretary Tristram Hunt attacked the Green manifesto as belonging to the 1970s.
"The Green party sell themselves as a new type of politics but when you look closely, they're anything but modern – they're more like a flashback to the 1970s than a vision of the future," he told the Guardian.
You can share this story on social media: