Bare-chested lies! Sun brings page three back, causes Twitter storm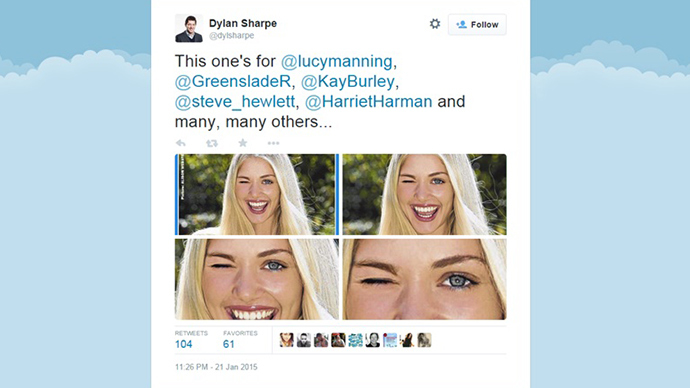 The decision by the UK's top selling newspaper to stop showing topless models has been revealed to be either a clever hoax or a dastardly PR stunt, after the tabloid paper once again featured a bare-chested model on Page 3.
Earlier this week it appeared that the paper had stopped running Page 3 amid suggestions that a decision had been made by the paper's owner Rupert Murdoch.
The media reported that the decision had been made "quietly," without any PR fuss, and the Sun refused to comment on the move.
The silence was treated as affirmative, but as the Sun's head of PR Dylan Sharpe posted, it was not.
Just got a call from @BBCr4today > "Do you want to discuss why you've brought back #Page3?" Me: "I don't recall telling you it had gone?"

— Dylan Sharpe (@dylsharpe) January 21, 2015
The apparent decision was greeted with outrage from fans and excitement from critics, who had campaigned for over three years to ban the page, which features a weekly 'News in Briefs' from a scantily clad model.
READ MORE:#NoMorePage3: The Sun axes topless models
To irritate the high-profile supporters of the campaign, Sharpe posted a series of smug tweets.
In one he suggested that the Sun's decision was false, saying "a lot of people are about to look very silly."
I said that it was speculation and not to trust reports by people unconnected to The Sun. A lot of people are about to look very silly...

— Dylan Sharpe (@dylsharpe) January 21, 2015
Another tweet was sent directly to MP Harriet Harman, Sky journalist Kay Burley, and other supporters of the No More Page 3 movement featuring a photo of Thursday's Page 3 girl.
Burley responded to the tweet, suggesting that Sharpe was immature.
.@dylsharpe@lucymanning@GreensladeR@steve_hewlett@HarrietHarman I'm sure your mother is incredibly proud of you Dylan. I know I would be

— Kay Burley (@KayBurley) January 22, 2015
The No More Page 3 group instigated a petition to remove the topless feature, which garnered the support of over 200,000 signatories, and were delighted when it appeared the Sun had axed it.
"This could be truly historic news and a great day for people power. It could be a huge step for challenging media sexism," a spokesperson said on Tuesday.
So it seems the fight might be back on. Thanks to @TheSunNewspaper for all the publicity they've given the campaign. See you tomorrow xxx

— NoMorePage3 (@NoMorePage3) January 21, 2015
Questions are now arising about the nature of the Sun's move. Was it a deliberate ploy to drive up sales, or a joke to rile the masses?
@LucyH_J I don't know why but I'm genuinely stunned the editorial team at The Sun consider female bodies fair game for PR stunts.

— Victoria Sadler (@VictoriaJSadler) January 22, 2015
You can share this story on social media: