​#NoMorePage3: The Sun axes topless models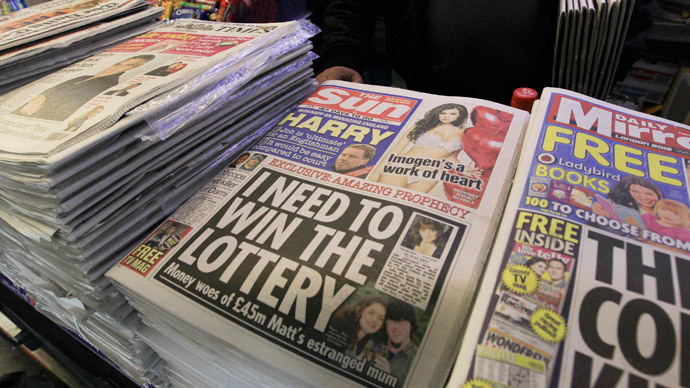 The UK's top selling newspaper has stopped printing 'Page 3' topless models after a run of 44 years, delighting critics of the "sexist" images and angering both fans of the feature, and those who see it as an issue of freedom.
The Sun stopped printing pictures of the bare-chested models this week after what was reportedly an order "from high up, from New York," in a thinly veiled reference to Rupert Murdoch, the media mogul who owns the paper.
Fans of the feature, however, will be pleased to know the girls will still be available at page3.com, a move which has been criticized by Channel 4's Jon Snow for possibly increasing exposure.
Sun page 3 absurdity: a naked bid to persuade people to go look at Page 3 toplessness online as the paper itself continues to shrink

— Jon Snow (@jonsnowC4) January 20, 2015
The Sun's decision comes after a long and protracted 28-month campaign to ban the pictures by protest group "No More Page 3," who wanted the paper to stop conditioning readers to see women as sex objects.
The campaign petition, spearheaded by No More Page 3 leader Lucy Holmes, garnered the support of 215,000 signatories online.
The Sun told The Times, another paper owned by Murdoch, that Page 3 was not gone forever.
"Page 3 of The Sun is where it's always been, between pages 2 and 4, and you can find Lucy from Warwick at Page3.com."
R.I.P page 3! Building sites & Cafe's will never be the same again!

— Dapper Laughs (@dapperlaughs) January 20, 2015
A spokeswoman for No More Page 3 nevertheless called the decision "historic."
"This could be truly historic news and a great day for people power. It could be a huge step for challenging media sexism."
Supporters of the campaign have expressed their delight at the decision online.
@bbc5live good riddance. Page 3 gave some men the wrong idea about respecting women's right to body ownership.

— Kat Brown (@KatBrown9) January 20, 2015
Murdoch has reportedly been considering the change for some time, having tweeted in September last year he thought it was "old fashioned" to feature topless women.
He further attempted to get the views on Page 3 from his Twitter following, posting: "Aren't beautiful young women more attractive in at least some fashionable clothes? Your opinions please."
Many of his readership appeared to disagree, and the decision to ban Page 3 from the physical pages has sent many readers into a spin, with "feminists" bearing the brunt of their anger.
So 'feminists' can post pics of their half naked bodies on twitter as their 'right' AND protest against page 3 models making a living? Ok

— Melissa Monologues (@MelissaMono) January 20, 2015
The feminists have won! This is a dark time in history. We cant let miserable moaning women rule society! #Page3 #BringBackTitties

— Lush Juan (@ClassicWillard) January 20, 2015
There are reports that the decision could be reversed if there is a noticeable fall in sales, but the publisher, News UK, have said even in the face of staunch criticism the feature was still popular with its readership.
You can share this story on social media: