Web founder Berners-Lee slams UK online surveillance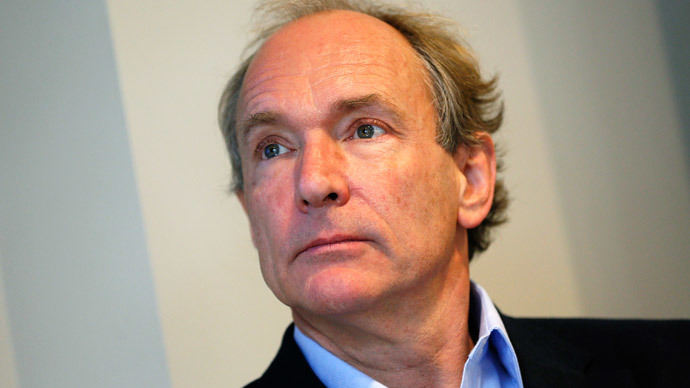 The internet's founder Sir Tim Berners-Lee says the UK government is the best in the world for making data open, but the worst for spying on its own citizens online.
Speaking to the BBC on its 'Democracy Day', Berners-Lee said the UK was doing well in "getting people connected," but it was also "getting famous" for its surveillance of citizens.
Last month, the UK scored poorly on the Web Index produced by Berners-Lee, although it scored above other countries, notorious for their free speech restrictions.
When Berners Lee released the index in December, he said the internet was "less free, safe and equal than ever." He claimed to be wary of the web being used to "further concentrate economic and political power in the hands of the few."
READ MORE:'Dangerous as terrorists': Snowden leaks reveal GCHQ stores journalists' data
The UK came fourth in the index, but came 21st in its ranking for a "free and open web" – one of the lowest in the Western world.
The statements come as the former head of MI6, Sir John Sawers, who called for new surveillance tools for the security services to monitor and curb potential terrorist attacks.
In a speech on Tuesday, Sewers said internet companies such as Google and Microsoft also needed to give security services access to data to prevent attacks such as those in Paris and Nigeria earlier this month.
"The security community has done a fantastic job keeping these threats at bay … but if I was to sit here and say: 'Will the goalkeepers of the security services and police keep every single attempt to get the ball into the net out?' No. At some point a threat will get through," he said.
Sawers also criticized the NSA whistleblower Edward Snowden, who leaked thousands of classified documents detailing the US and UK's web surveillance programs.
READ MORE:GCHQ more dangerous to privacy than NSA – Snowden
"Snowden threw a massive rock in the pool," he said.
"It was certainly a great concern for me that the, if you like, informal co-operation that worked well between most technology companies and communication companies and security services was broken by the Snowden revelations and has not been repaired."
He added that MI6 had acted within the law when conducting their surveillance program, and that to ensure national security, it was important that there was no area of the internet that was absolutely impenetrable by security services.
You can share this story on social media: