Fox News apologizes for expert calling Birmingham 'totally Muslim no-go zone'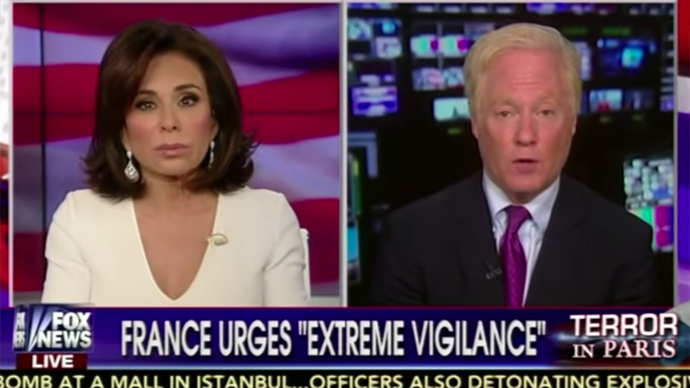 A week after a self-proclaimed terrorism expert told Fox News that entire large UK cities, such as Birmingham, had been overtaken by Muslims, the US network has apologized for allowing "a factual error" on air.
"Last week on this program, a guest made a serious factual error that we wrongly let stand unchallenged and uncorrected. The guest asserted that the city of Birmingham, England, is totally Muslim and that it is a place where non-Muslims don't go. Both are incorrect," said Jeanine Pirro, who had interviewed Steven Emerson for her Justice with Judge Jeanine program in the wake of the deadly Charlie Hebdo attacks last week.
"The most recent census data, which is from 2011, indicates 22 percent of the population of Birmingham identify themselves as Muslim. Also, we could find no credible source that indicates Birmingham is a so-called no-go zone. We deeply regret these errors and apologize to the people of Birmingham, our viewers and all who've been offended."
READ MORE: #FoxNewsFacts: Pundit who claimed Birmingham '100% Muslim' mocked on Twitter
Emerson himself was forced into making almost immediate and copious apologies to "the beautiful city of Birmingham" after his comments on January 11 provoked a Twitter storm of outrage, much of it coming from the UK. The event inspired the Twitter hashtag #FoxNewsFacts under which other dubious statements were presented by users to lampoon Emerson and the network.
RT @wainwright_star: Mecca is indeed in Birmingham. Kingstanding Circle to be precise #FoxNewsFactspic.twitter.com/DJI8hPtZF2

— tom_watson (@tom_watson) January 11, 2015
Twitter users mock @FoxNews over #Birmingham claims http://t.co/UF3kF9CEqJ#foxnewsfactspic.twitter.com/1Mhsy1Oz30

— The Telegraph (@Telegraph) January 12, 2015
Watch this : American no go zones via @FoxNews#FoxNewsFacts#ROFLpic.twitter.com/OWy0ILf4Iy

— Dr Turfu ع (@Dr_Turfu) January 18, 2015
Even David Cameron was dragged into the scandal. The UK prime minister said on ITV News that he "choked on his porridge" when he was shown the original broadcast, and said that Emerson is "clearly a complete idiot."
My comments on FoxNews about Birmingham were totally inaccurate. Birmingham, please accept my apology; I was wrong. Steve Emerson

— InvestigativeProject (@TheIPT) January 12, 2015
Emerson called his statements an "inexcusable error," and agreed to donate funds to a Birmingham hospital, though did not back down from broader comments, such as claims that "there are actually Muslim religious police that actually beat and actually wound seriously anyone who doesn't dress according to religious Muslim attire" in British urban centers.
The UK's 2011 census showed that there were 2.8 million Muslims in the country – about 4.4 percent of the population.
You can share this story on social media: