'TV cannot be 100% impartial': Media mogul Lebedev talks press regulations, freedom of speech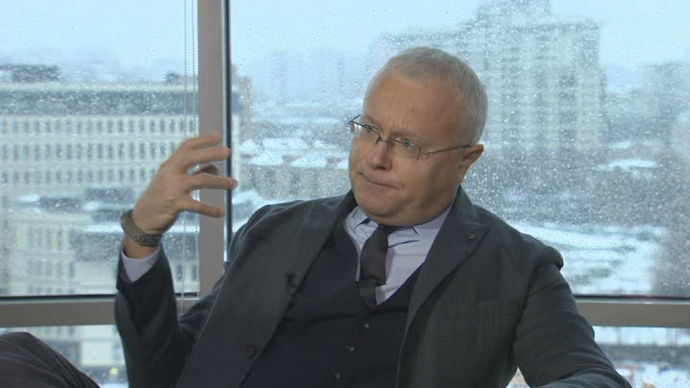 Proving media bias can be an extremely difficult task, even though media owners' views often make their way onto the airwaves, Aleksandr Lebedev, the Russian-based owner of London Live, told RT.
British media regulator Ofcom's threats to shut down RT left Lebedev puzzled. The mogul said that if the British system is as tolerant of free speech as it purports, then it has no reason to shy away from offering its viewers a choice in what they watch.
"The British system, which really looks like a cradle of free speech, could tolerate things like that (RT). So I was really smiling when I bumped into that you were being rigorously reprimanded by Ofcom, and think that the compromise would be found," he said.
Last fall, Ofcom threatened RT – which launched its UK channel in October – with sanctions due to perceived bias, saying the channel lacked "due impartiality...in particular, when reporting on matters of major political controversy." RT denied the accusations.
Lebedev said that proving bias can often get extremely murky, noting that media owners often have opinions which directly or indirectly make their way into programming.
"It's quite difficult to prove biased/non biased for TV...Fox has their flavor of views of people who control it. And I would probably think that Rupert [Murdoch] personally has until recently been interfering in things," he said of the American broadcaster widely said to have a conservative tilt.
However, the businessman and former politician – once a Duma member and contender for Moscow mayor – noted that impartiality is often illusive, if not altogether impossible.
"If the journalist has a point of view it's always personalized. It's never 100 percent impartial in a sense," he said.
However, another move against RT by Ofcom is unlikely, Lebedev said, noting that this would reflect poorly on the British system.
"I don't seriously think that, for example, they could come harsher against you. It would really portray the British system – 'the government against the media' – in a wrong way."
Watch RT's full interview with Aleksandr Lebedev below.
You can share this story on social media: