China-UK nuclear power deal details hidden for 'national security'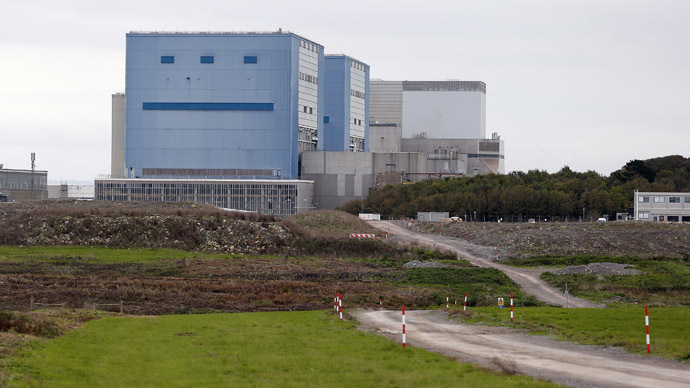 The UK government has refused to reveal whether the National Security Council approved or discussed China's investment in a proposed £24.5 billion nuclear power plant in the UK, Hinkley Point C, citing "national security."
Despite a BBC Freedom of Information request for information regarding China's expected 30-40 percent stake in the new nuclear site in southwest England, the government denied further disclosure.
Cabinet Office official Roger Smethurst told the BBC: "There is a general public interest in disclosure of information and I recognize that openness in government may increase public trust in and engagement with the government. There is a definite public interest in members of the public being able to understand decisions taken on investment in critical national infrastructure."
"I have weighed these public interests against a very strong public interest in safeguarding national security."
The National Security Council's job is to review and debate foreign investment projects and then to approve or deny them.
Derek Smith, head of communications for the NSC, told the BBC: "The government has put in place an approach which enables it to assess the risks associated with foreign investment and develop strategies to manage them."
"The NSC brings together the economic and security arms of the government and is the forum that ultimately balances the risks and opportunities of inward investment decisions."
In June last year, the government announced the civil nuclear agreement signed by the UK and China, which could be "worth hundreds of millions of pounds to British companies over several years." This paved the way for Chinese companies to invest in Hinkley Point C.
READ MORE:China to pay £100mn for 80% stake in 3 UK wind farms
Energy and Climate Change Secretary Ed Davey said at the time: "China and the UK stand united in our plans for more collaborative working that will help to achieve long lasting energy security in our own countries."
The plant would be the first overseas venture for the China General Nuclear Power Corp.
Meanwhile, the French nuclear power developer EDF is expected to sign an investment agreement with Chinese partners for the new reactor at Hinkley Point by the end of March, to secure investment for the project.
According to the World Nuclear Association, the UK has 16 operational reactors generating around 18 percent of the country's electricity. All but one of these will be retired by 2023.
China is reportedly negotiating plans to build four new reactors in Turkey. One-third of the nuclear reactors currently under construction worldwide are in China.
The nuclear plant is not the only UK energy project that China co-finances. The state-owned China General Nuclear Corporation is reportedly prepared to pay £100 million for an 80 percent stake in three UK wind farms.
You can share this story on social media: