'Dodgy deal': Euro MPs' vote opens way for GM crops in Britain
Members of the European Parliament have voted in favor of allowing genetically modified (GM) crops to be grown across the EU on a large scale for the first time.
The landmark ruling, which was supported by 480 MEPs, gives member states the right to choose whether to grow the crops, providing they are first approved by the European Food Safety Authority (EFSA).
Countries that decide to reject GM crops may face court battles with biotech firms.
Critics allege the vote is a "dodgy deal" between the British government and biotech companies. They contend that GM crops will damage the environment by forcing farmers to use stronger weed killers.
Proponents of the move say it will usher in an "agricultural revolution," arguing that farmers need access to the technology to compete globally.
The new legislation, which will come into effect before spring, could mean GM variants of such crops as maize and those which produce oil will be grown in the UK in the next few years, providing they are approved by the EFSA.
It will also open the door for genetically modified fruit and vegetables to be sold in British supermarkets.
While member states will be able to "opt out" of GM cultivation, the new bill means that governments who choose to do this could be sued by corporations.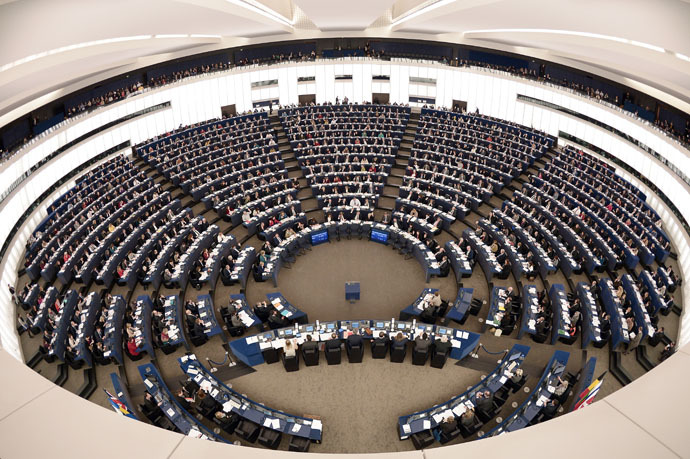 Governments that decide to opt out have two options. They can either negotiate with firms for a territorial exclusion, or they can impose a national ban on single crop strains.
The first option could be met with an outright refusal by biotech firms and the second option could result in companies taking governments to court.
The EU directive gives nations the right to ban GM crops based on their environmental impact, but only if that impact is different from those assessed by EFSA, according to activists.
"This means that EU states may face a de facto prohibition on citing environmental impact assessments they have themselves conducted in their own territories," Marco Contiero, Greenpeace's agriculture policy director, told The Guardian.
Some campaigners labeled Tuesday's vote the result of a "dodgy deal" between Britain and agribusiness.
The use of #GM crops in the US has led to huge problems with resistant weeds, and an increase in use of pesticides http://t.co/YjJsgFHKpC

— Soil Association (@SoilAssociation) January 13, 2015
"This agreement arose from a dodgy deal between the UK government and the GM industry, which hopes to grow its GM RoundUp Ready crops in England," Helen Wallace, director of Genewatch, told RT.
"There has been massive environmental harm from growing GM RoundUp Ready crops in the USA, including the spread of superweeds on half of US farms and the loss of 90 percent of Monarch butterflies."
The US Fish and Wildlife Service announced last month it was considering placing the Monarch butterfly on the Endangered Species Act.
READ MORE:Monarch butterfly may be listed as endangered species after 90% population drop
Peter Melchett, policy director at the Soil Association, expressed similar concern over the environmental impact of the new law.
"The commercial GM crops currently in the pipeline for Europe are not those with traits associated with feeding the world," he said. "They are crops engineered by GM companies to be resistant to weed killers that they too have manufactured."
"The use of these in the US has led to huge problems with resistant weeds, and an increase in the use of pesticides. Yields from GM crops are lower than non-GM, and in the US GM crops are damaging wildlife."
EU countries should now go ahead & ban GM crops on their fields - with new powers awarded them today in #GMO vote. http://t.co/3ChfJiaEIb

— Friends of the Earth (@foeeurope) January 13, 2015
Cross contamination is also a major concern, says campaign group GM Freeze, as the EU directive makes no attempt to protect GM-free agriculture.
"Contamination incidents all over the world show that seed and pollen will spread wherever the wind, wildlife and human error take them, right along the supply chain," said GM Freeze Director Liz O'Neill.
"This directive offers no meaningful protection to people who want to make informed choices about what they are eating or to farmers who want to protect their fields from the superweeds and biodiversity loss associated with the kind of GM crops likely to be heading our way."
READ MORE:Food 2.0? Britain needs GM crop revolution – Tory minister
Advocates of the legislation claim genetically modified crops are more eco-friendly and cite the business case for their use.
UK Environment Secretary Elizabeth Truss told the Oxford Farming Conference last week: "If you look at what has happened in the US, crops are being grown in a more environmentally friendly way with less water usage and less pesticide usage. I would like us to have that opportunity."
"Our farmers need access to technology that will help them work in world markets," she said.
You can share this story on social media: