Turned a blind eye? Police urged to investigate Prince Andrew's bodyguards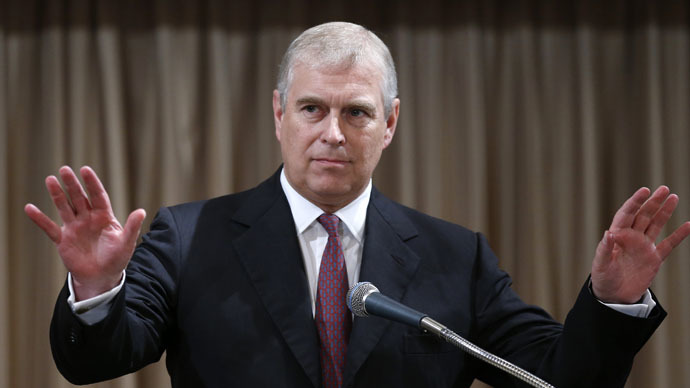 There are fresh calls for police to investigate the bodyguards who accompanied Prince Andrew during his alleged visits to the homes of convicted sex offender and disgraced billionaire Jeffrey Epstein.
The protection officers who accompanied the Prince on the trips, where he allegedly had sexual relations with underage girls, have been accused of "turning a blind eye."
The Duke of York has become embroiled in an international sex-scandal after accusations that he had sex with a 17-year-old girl, which came to light during a separate sexual abuse investigation brought before Florida courts.
Now members of the Crime Committee and London Assembly Police have urged Scotland Yard to begin further investigations into the Duke's bodyguards in order to ascertain whether or not they witnessed any criminal activity during visits to Epstein's mansions.
READ MORE:Prince Andrew 'immune' to US trial, Buckingham Palace rejects sex abuse claims
A former head of the Royal Protection Unit, Dai Davies, told the Daily Mail that the bodyguards' information could corroborate the Prince's claims that he is innocent.
The newspaper further reports that Davies expected Andrew to have been aware of the potential dangers of associating with the billionaire.
"I would have expected Prince Andrew to have been severely warned on the dangers of liaising with Epstein," he added.
The Prince has always vehemently denied having any sexual relations with Virginia Roberts, who claims to be one of a number of underage "sex-slaves" at Epstein's multi-million dollar mansions.
Buckingham Palace has also defended the Prince, saying the accusations are completely without foundation.
Juan Alessi, however, who was Epstein's butler during the period under scrutiny, said that Duke of York did attend a party, held by Epstein in his Florida mansion, with attendant security.
READ MORE:London Mayor 'sympathizes' with Prince Andrew in sex abuse row
"He had his two bodyguards from Scotland Yard. I can remember their names," Alessi said.
"The bodyguards were off duty and they slept in one of the guest bedrooms."
Peter Prentice, who lead the Royal Protection Unit at the time, defended the bodyguards, saying that checking the age of the girls at the party was not within their jurisdiction.
"Every day of the week, clubs or bars are being fooled and duped," he said.
"Protection officers are there purely to ensure their [the royals'] safety. Their role does not include questions of morality."
"The only compromise to this is, of course, if there is a question of legality. Then I would expect the protection officer to take advice from a senior officer or supervisor."
Scotland Yard has declined to comment.
You can share this story on social media: