​Merkel visits Cameron ahead of critical UK election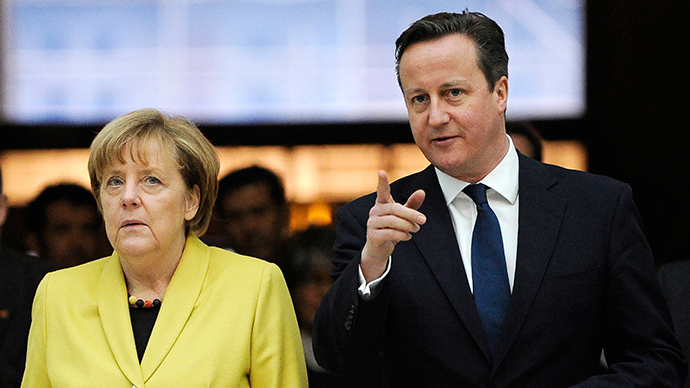 German Chancellor Angela Merkel and UK Prime Minister David Cameron are discussing immigration, Ebola, economic growth and other "key issues to advance our common agenda" at a meeting in London on Wednesday.
Merkel, who is visiting London, is expected to discuss immigration in Europe with Cameron to avoid an abuse of benefits that EU states offer, but she will reiterate her position that Europe's freedom-of-movement system should remain unchanged.
A joint statement between Merkel and Cameron regarding the meeting stated that both nations should try to ensure they emerge from the global financial crisis stronger than they were at the beginning.
"Our aim is to increase economic growth and create prosperity for our citizens and this will be the focus of our discussions today," the statement reads.
"We have to do more to stabilize the EU further and to make it more competitive than it is today.
"We have to do more to exhaust the potential of the European Single Market and to dismantle regulations which hinder the economic activity. We have to remove further trade barriers, in particular by agreeing a free trade agreement between the EU and the US in 2015, which had been put under way [sic] at the G8 summit under the British presidency in Lough Erne."
READ MORE:'Catastrophic' if Britain leaves EU, curbing migrants' benefits possible – German minister
Germany assumed the presidency of the G7 in June 2014. In June this year Germany will host the meeting of the heads of state and government. Merkel's trip forms part of a series of visits to foreign capitals in preparation for the G7 summit.
The G7 is made up of seven major advanced economies: the United Kingdom, Germany, Canada, France, Italy, Japan and the United States.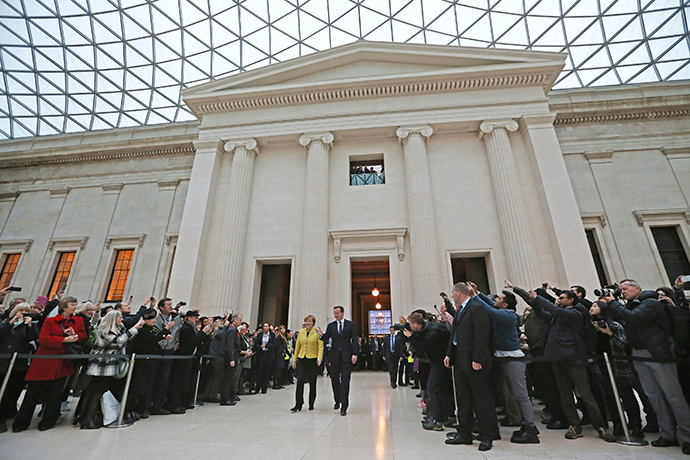 Britain's position in Europe and its future within the European Union are core campaign issues ahead of the general election in May this year. Cameron has pledged to hold a referendum on British membership in the 28-nation bloc by 2017, as the anti-EU party UKIP has gained rising support in Britain.
The meeting comes at a time of heightened tension over immigration in Germany, as protests against "Islamization" are taking place in major cities across the country.
READ MORE:Majority of Brits want to quit EU – poll
"We've been providing employment for a lot of people around Europe; now I want to change that," Cameron said in a BBC interview on Sunday.
"If we've got a Europe that isn't growing, a European Union that isn't working, migration arrangements that don't work for countries like Britain, we've got a problem, and I believe in confronting and dealing with problems rather than just putting them off."
"We need the UK," Merkel said on November 17 in Sydney. "I'll do everything I can and I hope that we will be able to persuade them to remain members of the European Union."
You can share this story on social media: