'Catastrophic' if Britain leaves EU, curbing migrants' benefits possible – German minister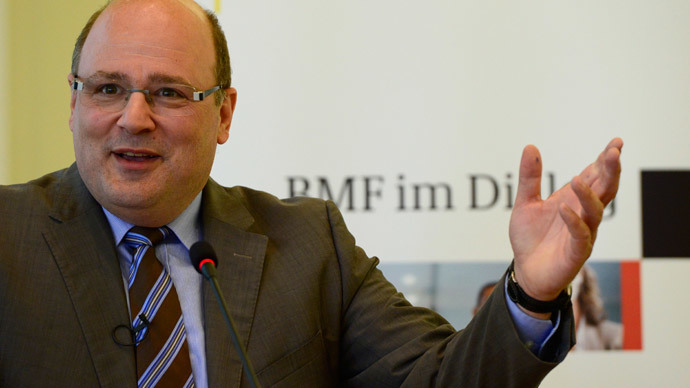 The EU will "find ways" to keep Britain in the European Union, including curbing migrants claiming benefits, Germany's deputy finance minister, Steffen Kampeter, has said. He warned it would be "catastrophic" if Britain leaves the 28-nation bloc.
Speaking to BBC2's Newsnight on Monday, Kampeter said: "We want [Britain] in and we will find ways to offer Britain a good chance to stay in. And please do not forget opting out is not economically very preferable to the United Kingdom and has many disadvantages."
"The great United Kingdom is part of this European integration: culturally, philosophically and economically. That they have questions on the size of the integration and special questions on bureaucrats in Brussels I very much agree. But there's no doubt that the UK belongs to Europe."
Kampeter said Germany was not alone in appealing for Britain to remain in the EU. "We want them in and we will find ways to offer Britain a good chance to stay in," he said.
Italian Prime Minister Matteo Renzi also supports this view, Kampeter said.
"This could be a disaster, a disaster for Europe obviously, I believe also for the UK," Renzi told Sky News on Sunday.
British Prime Minister David Cameron earlier made demands to curb freedom of movement in the EU and to tackle so-called "benefit tourism." Yet German Chancellor Angela Merkel has recently said that the general principle of freedom of movement is "not negotiable."
Regarding the issue of freedom of movement, Kampeter added: "I don't think that the answer is to limit the free movement of persons. I think we need a European-wide legislation that makes clear that free movement does not mean free movement into social security systems."
Kampeter also said there is room for negotiation. "I don't belong to those who say 'there's no chance of treaty changes'. [German Finance Minister] Wolfgang Schaeuble made several proposals, for example, for treaty changes are necessary to make more effective governance of the eurozone."
Cameron has pledged to renegotiate the terms of Britain's EU membership, before holding an in/out referendum by 2017 on whether the UK should remain in the union.
Meanwhile, former Prime Minister John Major said the EU needs reform if Britain is to remain a member.
"We aren't seeking to end free movement, but what has been happening over the last few years has been such a huge bulge in the amount of migrants coming to the UK – our population has risen by about 7 percent in a decade and at the present rate the British population would rise in a few decades by 25 percent while the German population would have fallen," he told BBC1's Andrew Marr Show on Sunday.
"We are not going to close our doors and nor should we either economically or politically, but there is in the midst of that a particular problem of numbers," he said.
READ MORE:50/50 chance of Britain leaving EU – former PM Major
Major said the influx of migrants to Britain was being accelerated by the worsening economic situation in southern Europe.
"Once they are back in growth the demand to come here will almost certainly fall. So I see it as a shortish-term problem, maybe another year, maybe longer, and we need a little help over that period," Major said.