UKIP.org for sale? Farage's website 'unregistered'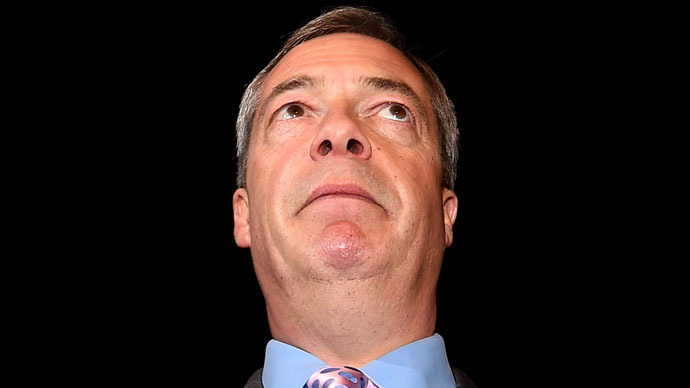 As the Tories, Labour and Liberal Democrats gear up for General Election mud-slinging, the UK Independence Party (UKIP) has already hit a stumbling block. Their official website, ukip.org, appears to be down and unregistered.
UKIP told RT they are aware of the problem.
The website glitch was revealed by Guido Fawkes, a political blogger, on Tuesday morning. UKIP have since scrambled to fix the problem.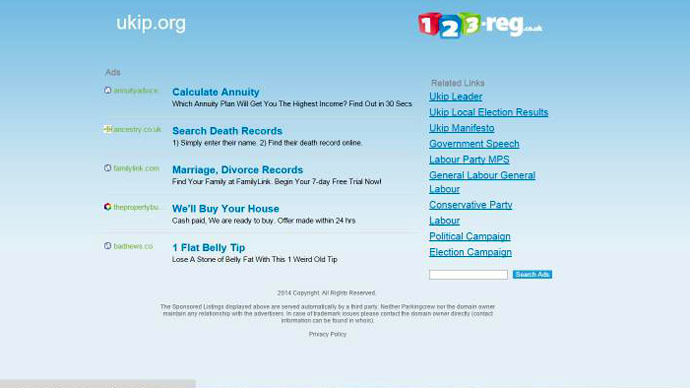 Rather than showing details of UKIP's manifesto and relevant party information, the "unregistered" site now shows a series of targeted advertising, ranging from car insurance to divorces, on the 123-reg.co.uk site, which allows users to register domain names.
A party spokesperson told RT the site was still registered to the political party, and publicly listed as belonging to UKIP until March 2016.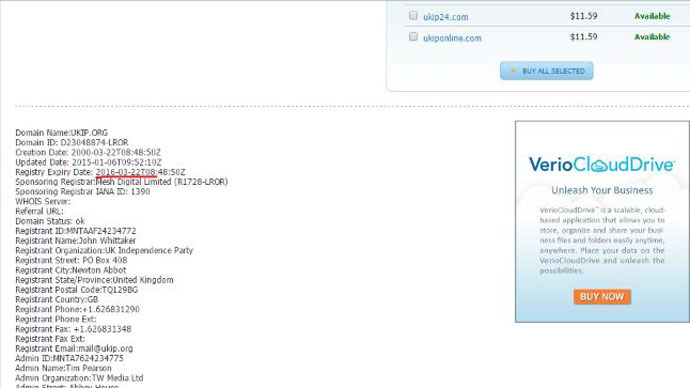 He blamed the chaos on "a technical problem overnight" and added they were working to rectify it as soon as possible.
He further insisted the site was "not for sale," despite current claims from a record company that they bought the domain name for £200 from website GoDaddy.com
Guess who owns http://t.co/MF2oRnDEbJ ..... #whatthehelldoidowiththisnowpic.twitter.com/Q0CXPaTtjW

— Alcopop! Records (@ilovealcopop) January 6, 2015
The company 'Alcopop' told ITV news that they had received confirmation for the purchase. The website, however, still lists the domain as "available", suggesting it could later be cancelled.
You can share this story on social media: