'Death from cancer the best': UK doctor under fire over calls not to 'waste' money on tumors cure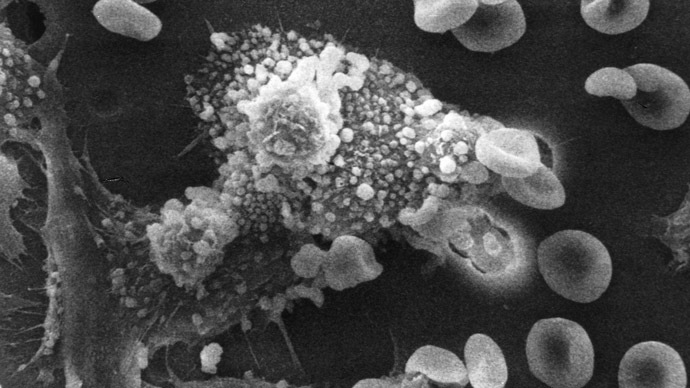 A former British Medical Journal (BMJ) editor has stated that cancer is the best form of death and it is preferable to other options, saying that attempts to cure it could potentially lead to a "more horrible" death.
"Let's stop wasting billions trying to cure cancer," Dr Richard Smith wrote in a BMJ blog. He referenced other potential causes of death to outline why he deemed cancer to be the most preferable.
"The long, slow death from dementia may be the most awful as you are slowly erased," he stated, adding that "death from organ failure—respiratory, cardiac, or kidney—will have you far too much in hospital and in the hands of doctors."
As a cancer survivor myself, I find Dr Smith's comments outrageous and incredibly insensitive. http://t.co/40assT5RyD, via @Independent

— Mikko Kuisma (@DrMKuisma) January 1, 2015
Dr. Smith, who is an honorary professor at the University of Warwick, explored the benefits of being prepared for death through the declarations of Spanish surrealist filmmaker Luis Buñuel.
Buñuel stated that despite "not [being] afraid of death" he was "afraid of dying alone in a hotel room, with my bags open and a shooting script on the night table. I must know whose fingers will close my eyes."
Dr Richard Smith can shut his attention seeking mouth shut. http://t.co/BKmzPs3xeV

— Gareth (@OrangePekoeT) January 1, 2015
Dr. Smith argued that cancer – which Buñuel died from in 1983 – allowed for time and closure concluding that "the death from cancer is the best."
Richard Smith clearly hasn't watched somebody die of cancer. What a complete and utter idiot

— Chris Lent (@MrChrisLent) January 1, 2015
"You can say goodbye, reflect on your life, leave last messages, perhaps visit special places for a last time, listen to favorite pieces of music, read loved poems, and prepare, according to your beliefs, to meet your maker or enjoy eternal oblivion," Dr. Smith wrote.
Not sure I agree with Dr Richard Smith's cancer comments. My mum wouldn't be here 4 yrs on if it wasn't for over-ambitious oncologists.

— Lou (@CelticGhirl33) January 1, 2015
"This is, I recognize, a romantic view of dying, but it is achievable with love, morphine, and whisky. But stay away from overambitious oncologists," he added.
He stated that when he asks audiences how they want to die, a preferable option is sudden death.
Richard Smith, you have obviously NEVER watched a loved one die from cancer, it is NOT the best way to die, it's the worst for ALL involved!

— Squiffy The Clown (@Squiffy2) January 1, 2015
However, he argued that this can be "very tough on those around you".
"Particularly if you leave an important relationship wounded and unhealed," he wrote.
Cancer is one of the most common causes of death in the UK, being responsible for nearly a third of all deaths. Cancer Research UK told the Telegraph that it was important to keep funding research to find cures for cancer.
However, concerns have been raised in recent years that there will be an enormous increase in people suffering from dementia, which could potentially place a huge strain on health, social care sectors as well as on the families of sufferers.
His comments have sparked unrest on social media with some people taking to twitter to suggest that the Dr. Smith's comments could have been deemed insensitive to either cancer victims or his relatives.
You can share this story on social media: