Cancer cases in UK 40% lifestyle-related - study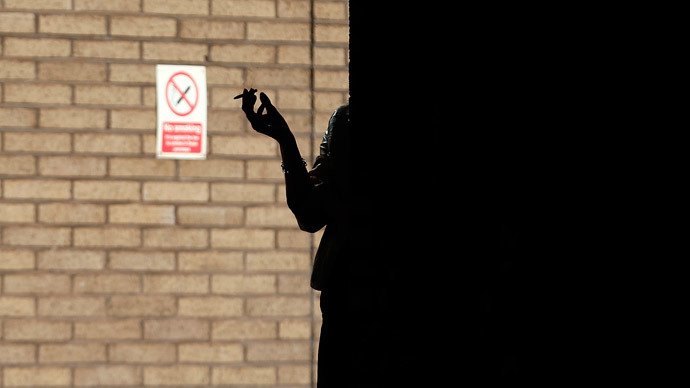 Nearly 600,000 cases of cancer in the UK over the past half-decade could have been avoided if people had lived more health-conscious lifestyles, recent figures by the charity Cancer Research UK have revealed.
The charity estimates that 587,000 cases of cancer diagnosed between 2007 and 2011 - just over four in 10 - could have been prevented with lifestyle changes.
Perhaps unsurprisingly, smoking tobacco contributed to over half (314,600) of lifestyle-related cases registered over that five-year-span.
Another 144,800 cases were attributable to poor diet, 88,100 were linked to being overweight, and overconsumption of alcohol was said to have played a part in 62,200 cases.
Overexposure to UV radiation from sunlight and living a sedentary lifestyle were responsible for 55,900 and 16,500 respectively.
In a number of cases cancer was caused by a combination of the above factors.
"There are more than 200 types of cancer each caused by a complex set of factors - involving both our genes and our lifestyles," Professor Linda Bauld, Cancer Research UK's expert on cancer prevention, said.
"There are proven ways to minimize our risk of cancer – like giving up smoking, being more active, drinking less alcohol and maintaining a healthy weight. We must make sure the public and the policy-makers know the evidence behind the benefits of these lifestyle changes is solid."
Harpal Kumar, Cancer Research UK's chief executive, said that cutting UK smoking rates by just 1 percent could save 3,000 lives a year. With current strains on the National Health Service (NHS), he says that prevention rather than treatment is the best way to tackle the country's cancer problem. Preventing young people from ever smoking in the first place remains a large part of that equation.
"Every year tens of thousands of people in the UK will be diagnosed with preventable cancers unless we act now to help people lead healthier lives," Kumar said. "Alongside investment in health campaigns and ways to help people reduce their risk of cancer, the government urgently needs to take action to stop children starting smoking by introducing standardized packaging for cigarettes without delay."
The figures come at a time when the NHS is struggling to cope with an aging population with a budget that is rising just at the level of inflation.
Due to the overwhelming role that smoking not only places in cancer, but other forms of heart and lung disease, mitigating disease through lifestyle choices could be one way of reducing strain on the service.
Health Minister Dr. Dan Poulter told the Guardian smoking had fallen to its lowest-ever level – 19 percent of the adult population. He said 1 billion units of alcohol had also been removed from the market over the past three years due to the government's responsible drinking campaign, adding that dietary changes need to be made as well.
"We have also removed thousands of calories from everyday food and drink products through our voluntary partnerships and we are the first country in Europe to introduce a successful voluntary labeling scheme so people can see at a glance how much sugar, salt and fat is in the food they are eating," Poulter said.
Professor Max Parkin, a Cancer Research UK statistician based at Queen Marry University of London, said that the public needn't remove all vices from their lives, though efforts should be made towards cleaner living.
"Of course everyone enjoys some extra treats during the Christmas holidays, so we don't want to ban mince pies and wine, but it's a good time to think about taking up some healthy habits for 2015," he said. "Leading a healthy lifestyle can't guarantee someone won't get cancer, but we can stack the odds in our favor by taking positive steps now that will help decrease our cancer risk in future."