Cold comfort for 3m low-earners: Tory tax cuts won't help them, study says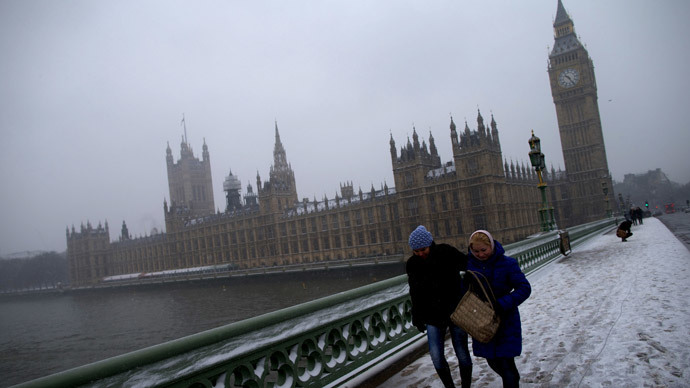 Millions of low income families will see no benefit from recent tax cut proposals due to a recently announced plan to freeze work allowance until 2018, research commissioned by the UK Independent claims.
READ MORE: Forgotten ones: 50,000+ young people jobless and undocumented by UK govt
The research, conducted by the London-based Resolution Foundation for the UK daily, studied Chancellor of the Exchequer George Osborne's Autumn Statement to freeze the work allowance until 2018. This is the amount people on benefits and tax credits can earn before their in-work state support starts to be withdrawn.
Taking into account recent tax cut proposals by the Conservatives, Labour and the Liberal Democrats, the study found that a couple with children would need to see their combined earnings rise by more than £1,300 just to compensate for the income lost from the freeze. That figure, incidentally, is 10 percent higher than wage increases forecast by the Office for Budget Responsibility.
READ MORE: Hundreds of UK children sleep on streets and in drug dens – local govt slammed
Currently, the bulk of UK citizens pay a basic rate of 20 percent on income over £10,000. Both the conservatives and the Lib Dems want to raise the threshold to £12,500. Labour has proposed a lower 10p per pound sterling starting rate of income tax, while UKIP, whose proposals were not considered by the study, wants to raise the basic threshold to £13,500.
But Resolution warned that for 3.3 million low-income families, the Universal Credit freeze would negate 65p for every pound in tax cuts proposed by the three mainstream parties.
The think tank proposes that the Universal Credit, a welfare benefit launched in the United Kingdom to merge six means-tested benefits and tax credits, including housing benefit and tax credits, should be modified to ensure that all households get the full value of the tax cuts.
It warned the higher marginal tax rates would undermine one of the Universal Credit's primary goals - providing people on benefits incentive to work. All in all, it says people stand to lose 76p of every extra pound they earn.
The think tank estimates the freeze would cost a couple with children £315 a year by 2018. Arguing they would only keep 24p of every £1 in additional income, Resolution says they would need to increase household income to £1,325 just to offset the losses.
A single parent, meanwhile, would lose £430 by 2018 because of the freeze, so their annual earnings would have to rise by £1,815 just to maintain parity. Single people would lose £65, but would need a pay rise of £186 to break even.
"No political party has pledged to reverse these cuts to the work allowance," the Independent cites David Finch, senior economic analyst at the foundation, as saying.
"And as things stand the tax cuts proposed by the main parties will do little to offset these losses as the majority of any gains are immediately withdrawn through lower benefits. As yet, no leader has admitted that their tax cuts won't deliver for millions of working families on Universal Credit."
Alison Garnham, chief executive of Child Poverty Action Group, echoed that sentiment earlier this month.
"Freezing the work allowance [for Universal Credit] will harm work incentives and hit low paid families hard," she said, as reported by the International Business Times earlier this month. "Two thirds of poor children live in working families; we should be redistributing help towards them, not away from them."