​Anonymous hold protest at BBC London HQ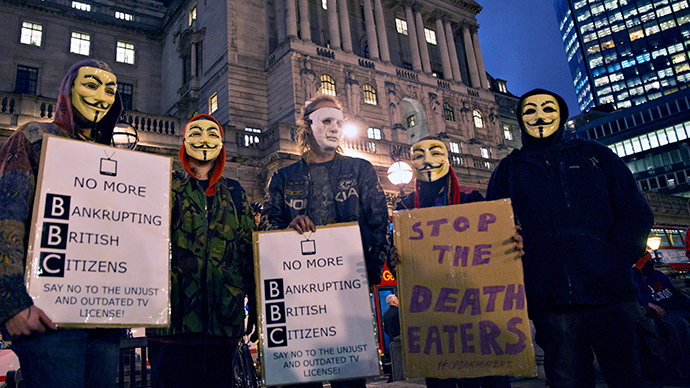 Several dozens of masked "Anonymous" members gathered outside the BBC headquarters in London to slam the broadcaster for its "biased" reporting, and the harboring of alleged pedophile Jimmy Savile.
"Shame on you!" and "Stop lying!" the protesters, who were outnumbered by reporters and police.
One held a placard saying "BBC - British Bulls***ting Corporation," as the demonstrators took turns on the megaphone to unleash freestyle rants against the taxpayer-funded broadcaster, to a hip-hop beat.
Anonymous to RT: 'Internet has power to bring down regimes'
In a video released by the group, they accuse the BBC of "failing" to report important news, fabricating information and a tendency to "totally avoid telling the truth at times."
"The BBC takes taxpayers' money and use it as their own," the Anonymous spokesperson says in the video.
"The government appear to tell you what to report or not and this year has seen many stories go unreported or twisted to a government viewpoint."
LIVE: Protesters chant 'Shame on you!' marching to BBC HQ in London http://t.co/Fr0v9fZgcD#OccupyBBCpic.twitter.com/eHfPYUVrVf

— RT (@RT_com) December 23, 2014
The group also accuses the BBC of hiding "pedophiles in your midst when [their] staff knew about the abuse of children," arguing there were "many more" still at large.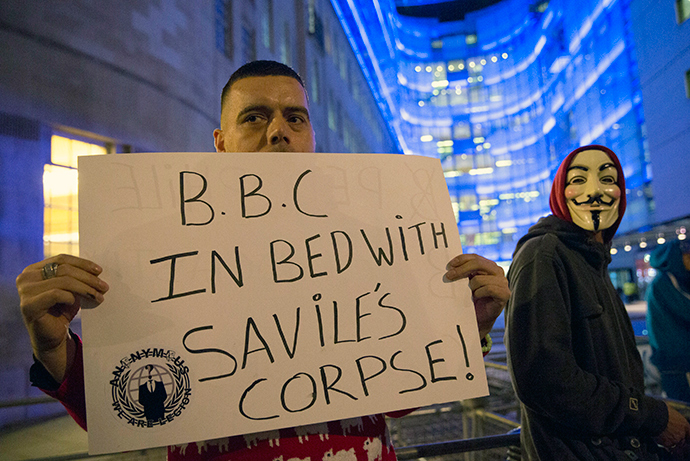 Jimmy Savile was a star broadcaster for the BBC from the 1960s to the 2000s. After his death, three years, ago hundreds of allegations of sexual abuse, including incidents that occurred while he was working, were unleashed against the DJ and children's TV presenter. The uproar prompted police operation Yewtree, which has targeted other high-profile celebrities, but Anonymous believe that the most powerful predators have been spared.
While the protest is not directed by a single cause, it is believed many of the activists remain resentful of the BBC for failing to cover the group's 'Million Mask March', which took place earlier this year.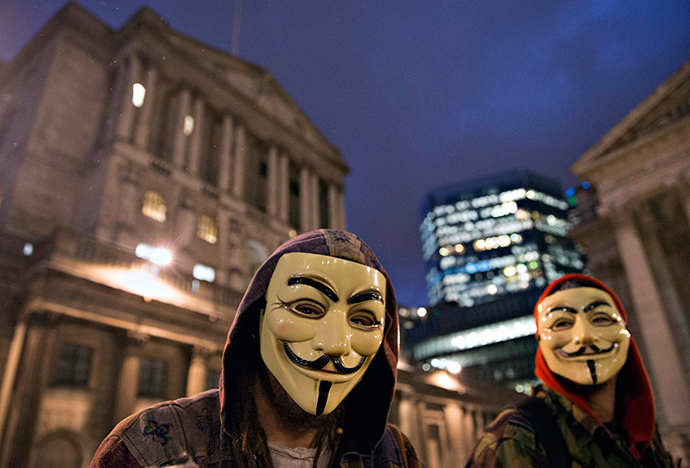 You can share this story on social media: