​BBC reporter gets high on camera, can't finish report
Published time: 23 Dec, 2014 16:57
Edited time: 24 Dec, 2014 02:42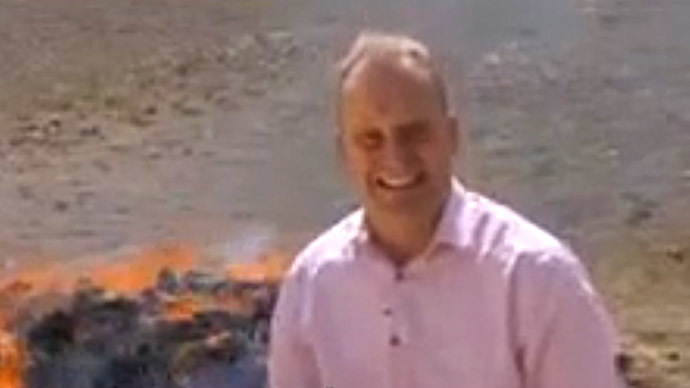 The BBC's Middle East correspondent Quentin Sommerville was unable to finish a video broadcast after inhaling fumes from a pile of burning drugs.
In the video, Sommerville attempts to deliver a serious opener only to fall into a giggle fit, overcome by the potent narcotic fumes.
"Burning behind me is eight tones of heroin, opium, hash and other narcotics,"Sommerville begins, but after pausing for breath he starts to laugh and is unable to continue.
The subsequent attempts were not much better, and though the original video has been taken down, copies have received over 100,000 views online.
The journalist shared the outtakes with his Twitter followers on December 22, accompanied by a now deleted message: "Dear tweeps, it's been a year of bullets and bloodshed. You've earned an xmas laugh, at my expense (sic)."
The Telegraph quoted a spokesman for the BBC as saying that the clip was actually filmed four years ago, but was "never broadcast."
"The video of Quentin corpsing, which has now been deleted, was posted in the spirit of a blooper," the spokesman added.