Labour immigration stance contradicted in counter-UKIP strategy leak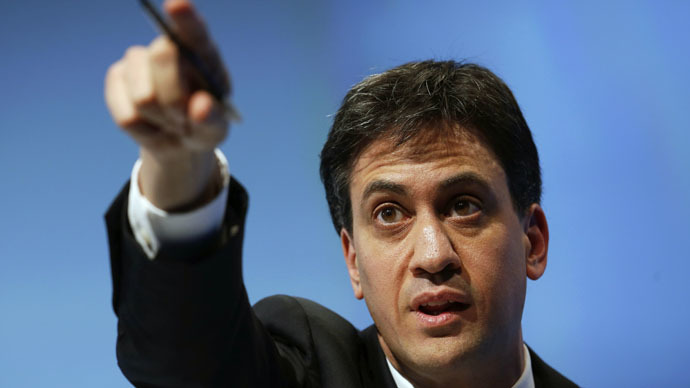 On the morning of Ed Miliband's critical speech announcing Labour's immigration policy, a leaked document revealed the party's MPs and activists had been told to "move the conversation" away from immigration when speaking to voters.
The Shadow Cabinet is reported to be "incandescent" over the strategy report's release, with sources claiming they had no knowledge of the document's existence. The report advised MPs to steer conversation and correspondence towards "stronger" issues, such as the NHS.
Until the party leader's speech on Monday, Labour had remained relatively quiet on their plans to tackle immigration, an issue at the center of a fraught policy battle been UKIP and the Conservatives.
In the leaked strategy report entitled 'Campaigning against UKIP', there are reportedly warnings that if immigration became a core campaign issue, Labour would continue to lose votes to UKIP.
The party maintains the lines were taken out of context.
One anonymous source told PoliticsHome the party must hold itself accountable.
"They've got to account for themselves over this. It goes against everything the Shadow Cabinet believe and have been saying for months in coffee mornings and events in their own constituencies," they said.
The Shadow Cabinet won't attempt to discover why the election strategy team, which includes the Shadow Foreign Secretary, allowed the document to be written and disseminated.
The message in the document appears to contradict the message spread by Labour, and is a source of embarrassment for Ed Miliband, who earlier laid out Labour's plans to tackle immigration in a speech to party members in Great Yarmouth.
The party leader outlined a renewed focus on Labour's immigration policy, claiming a Labour government would make the exploitation of immigrant workers illegal.
"We are serving notice on employers who bring workers here under duress or on false terms and pay them significantly lower wages, with worse terms and conditions," he said.
The quotes taken from the campaign strategy report were condemned by Shadow Work and Pensions Secretary Rachel Reeves, who said they were "taken out of context."
"I haven't even seen the document and I'm a candidate and a member of the Shadow Cabinet," she told the BBC.
"But I know, in seats around the country like Great Yarmouth, where Ed is today, immigration is an issue that we're talking about. I'm talking about it in my own constituency and we've got clear policies, which is what I'm on to talk about this morning."