'Torn apart': British-born family exiled after daughter joins ISIS
Published time: 8 Dec, 2014 16:53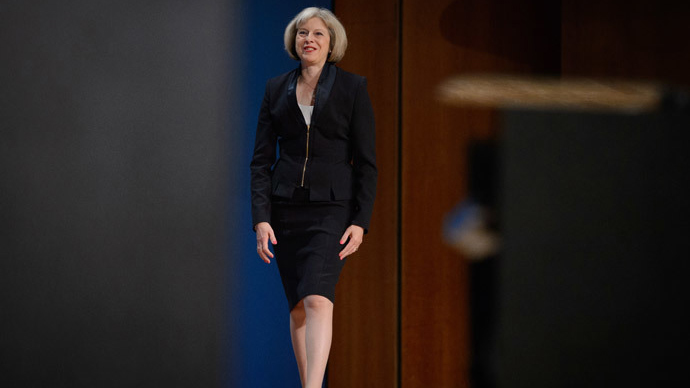 Home Secretary Theresa May has exiled a British man and three of his sons following accusations they were linked to Al-Qaida. It is the first time a family has seen its citizenship collectively revoked since May became home secretary in 2010.
The man, 51, who wished to remain anonymous, said the decision was "tearing our family apart."
The men were exiled while visiting family in Pakistan. Authorities claimed they were a threat to national security under the British Nationality Act 1981.
The unnamed father admitted his daughter had fled the UK and traveled to Syria with her husband, a known jihadist.
His wife and fourth son, who is disabled, kept their citizenship, but didn't return to the UK, as they wished to remain with relatives in Pakistan.
The four men stand accused of links with Al-Qaida and the Pakistani-based terror group Lashkar-e-Taiba (LeT), but the father has denied all charges.
"We are innocent of all the allegations, but our situation prevents us from answering the allegations," the 51-year-old told the Sunday Times.
"The best of British values don't contradict Islamic values. To this day, English is the only language we speak," he said, adding, "we are British through and through."
He went on to call the claims against him "ridiculous."
"We as a family have been abandoned by the British [government] and this is tearing our family apart," he added.
They plan to appeal their exile, though attempts to legally reinstate citizenship were refused by the Special Immigration Appeals Commission (SIAC).
The daughter, however, still holds a British passport, but lives with her "abusive" husband and three children in Syria. The father said other extremist fighters treated her jihadist husband like a "VIP."
Despite all possessing Pakistani passports and citizenship, the father said his family felt like outsiders in the country and wanted to "return home."
Theresa May, who recently introduced new measures to prevent extremists returning home from fighting abroad, said an assessment by MI5 had influenced her decision, as had claims they were linked to terrorist groups.
In a letter addressed to the family in 2011, May said the decision to revoke their citizenship would be "conducive to the public good."
"My decision has been taken in part reliance on information which, in my opinion, should not be made public in the interests of national security and because disclosure would be contrary to the public interest," the letter states.
A Home Office spokesperson said they were unable to comment on the individual case.
"Since May 2010 there have been 27 people who have had their citizenship revoked and for the overwhelming majority this was because of terrorist activities," they added.
A spokesperson from the human rights body Liberty claimed the family were victims of the UK's secret courts.
The revelation comes weeks after the chief reviewer of anti-terror law called government measures to keep extremists out of the country ill thought-through.