UK Midlands outrage: Police teargas and 'assault' students protesting tuition fees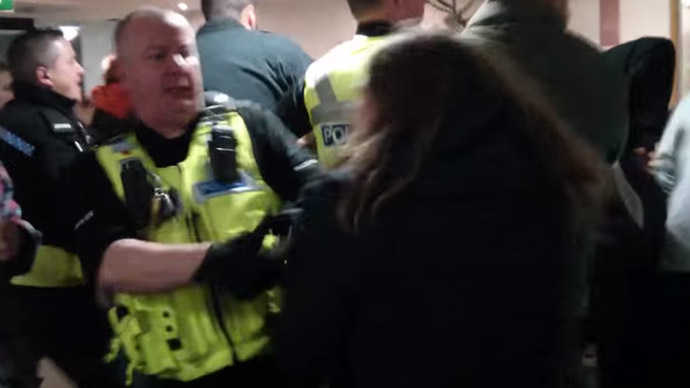 A student protest at Warwick University against soaring tuition fees was broken up by police and security guards using tear gas and significant force. Protesters were threatened with a Taser, pushed to the ground and rammed against a wall, activists say.
The protest, organized by Warwick For Free Education, occurred on Wednesday as part of a nationwide chain of student demonstrations coordinated by the National Campaign Against Fees and Cuts.
The students had organised a peaceful sit-in at the university's Senate House in protest at rising fees for higher education that have been introduced under PM David Cameron's government.
A spokesman for Warwick University said university security guards, who were monitoring the protest, were subjected to a "shocking and unprovoked act of violence," which prompted them to call for a police presence. But the spokesman's claims were contradicted by students who insisted the protest was quiet and peaceful.
One of the student protesters told OpenDemocracy.org that approximately 50 students attended a rally on Warwick University's campus before making their way to occupy the reception area of the university's Senate House. He claimed his fellow protesters were seated peacefully in a large circle, only to be besieged by security guards and officers.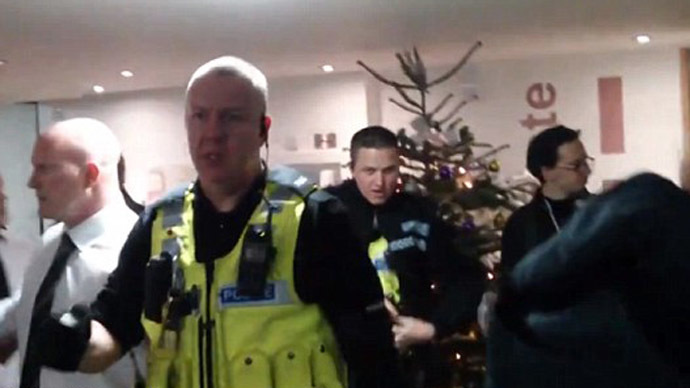 Following the arrival of West Midlands Police officers, clashes ensued. A formal statement published on the Warwick For Free Education website alleges that "at least 20 students were assaulted by university security and police."
Protesters were "punched, pushed onto the floor, dragged, rammed by their throat into the wall and kneed in the face," the protest group claims.
'Disproportionate force'
Footage published online shows an officer shoving the students with considerable force, while protesters shout, "What are you doing?"
The YouTube video reveals screaming students, visibly shocked and fearful, being forcibly dispersed by police.
One girl, who appeared to be filming the protest, was physically hauled forward by an officer and subsequently pushed away as she screamed in a terrified manner. A nearby student who witnessed the event shouted at the officer, "Get your hands off her!Mate, what are you doing? This is peaceful."
The officer appeared to respond by lunging toward the young man in a threatening manner with a can of CS gas.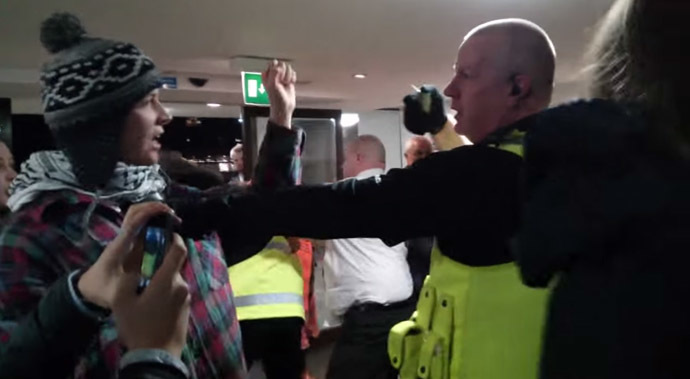 CS or tear gas is a commonly used agent for riot control. Exposure creates a sensation of burning, and causes excessive tearing of the eyes so that the subject's vision is temporarily impaired.
One student who had attended the demonstration told the Coventry Telegraph that a police officer "took out his CS spray and sprayed it in one person's eyes and then into a crowd of about 10 people."
Photo of warwick student after being CS Sprayed in the face #freeEducation@WarwickFreeEdpic.twitter.com/j8ALyyFExj

— Lawrence Green (@LawrenceJGreen) December 3, 2014
"A Taser was taken out and was being made to crackle by pressing the trigger, but it wasn't used," he added.
The student said the force deployed felt "particularly disproportionate.""When the police came they didn't say why they were there. A lot of younger students were visibly shaken and left in tears."
The activist added the violence the students experienced was a "shock" because the protest was "quiet.""We weren't even shouting," he emphasized.
'Released without charge'
On Wednesday, just before 9 pm, a spokesperson for West Midlands Police declared on Twitter that the protest was still ongoing. The force had made three arrests, following what it claimed were "reports of an assault."
"During the disorder, a Taser was drawn and an audible and visible warning was issued to prevent further incidents. The Taser was not fired," another Tweet posted by the police force read.
Warwick University Students' Union said in a statement that the force deployed by West Midlands Police was "disproportionate."
"From the footage we have seen of this incident, we absolutely believe that disproportionate force was used against protesters. We stand in solidarity with the Warwick students who were unnecessarily harmed in this action."
West Midlands Police arrested one person on suspicion of assault, while two others were arrested on suspicion of obstructing officers. All three have been released without charge, Warwick For Free Education announced on Wednesday night.
Shocked and disgusted by yesterday's events, staff and former students at Warwick have launched a petition calling for an "immediate review of the university's police liaison policies." It also demands the university make "an unreserved apology" to the students who endured violence on its grounds, and issue a firm guarantee it will assist "students in making complaints through the Independent Police Complaints Commission."

If necessary, the university should also facilliate students in pursuing"legal action against the police," the petition added. Set up on Thursday, it has already attracted over 1370 signatures.
You can share this story on social media: