​5 key takeaways to watch for in George Osborne's Autumn Statement
Published time: 3 Dec, 2014 11:06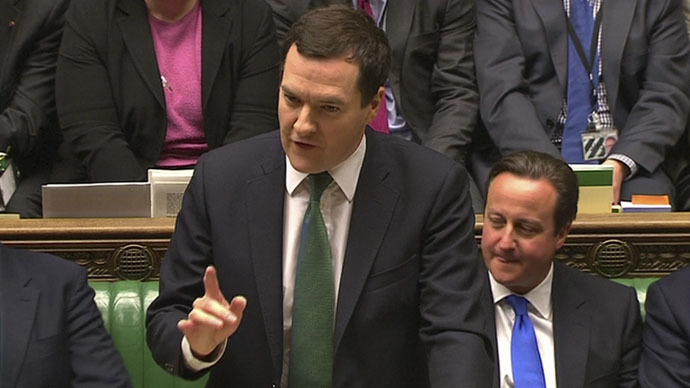 British Chancellor George Osborne is to deliver his final Autumn Statement of this parliament on Wednesday.
Analysts predict it will include public service investments and infrastructure projects aimed at boosting Conservative Party support ahead of May's general election.
Here's what we expect Osborne to say:
1.) The deficit hasn't been reduced
Expect the chancellor to try gloss over this, and for opposition parties to hit him hard. Osborne's plan to reduce Britain's budget deficit – the main justification for austerity measures – will have been further proven to have been a flop.
#AutumnStatement "eliminating the deficit"? #CameronMustGo#NOTAhttp://t.co/ySEoJtpoU5http://t.co/yjpMKKRqYcpic.twitter.com/uTPCCv1Rrz

— Chris Robinson NOTA (@chrisrobNOTA) December 3, 2014
He'll have to admit that the budget deficit this year is nearly £100 billion, despite predicting in 2010 it would be £87 billion. In fact, both independent analysts and the Office of Budget Responsibility (OBR) have shown that despite berating the previous government for their levels of borrowing, Osborne has run a higher budget deficit than the majority of his predecessors.
It is likely he will cover this failure up with the argument that Britain is one of the few countries in the EU displaying steady growth of around 3 percent, but with fewer voters reaping its benefits, it is unlikely this news will attract a significant amount of support at the ballot box.
2) £2bn extra funding for the NHS
David Cameron's government has faced heavy criticism for its attempts to reform NHS services, with many activists claiming they are trying to privatize the health service "by the back door," not least through using the controversial Transatlantic Trade and Investment Partnership deal between the US and the EU.
Additionally, voters in Britain believe the Conservatives are the least trustworthy when it comes to maintaining the health service – something that the opposition Labour Party has been keen to capitalize on.
#CameronMustGo because his neighbour at No11 will set out smoke & mirror #AutumnStatement with £2BN NHS ££ recycled pic.twitter.com/IkgxjvzGqi

— peoplesvote4nhs (@peoplesvote4nhs) December 2, 2014
Earlier this week, the Chancellor announced he would increase investment in the NHS by £2 billion, but almost immediately he was accused of simply redirecting £750 million of savings from the Department of Health, which being implemented due to government austerity measures.
Additionally, Osborne has been criticized for not providing enough detail on his pledge to invest £8 billion into the NHS by 2020.
3.) £15bn investment into infrastructure
One of the Chancellor's aims in 2010 was to get the British economy moving, and there's no better way to do that than with infrastructure. According to the trade magazine Construction News, projects that might be lauded include a new nuclear power station in Cumbria, 1,400 flood defense projects, and a £15 billion injection into fixing and building new roads.
While the Chancellor has also announced plans to develop new so-called "garden cities" encompassing newly built homes, he has been criticized for not tackling the housing crisis in more deprived areas of the country, particularly in the north of England.
4.) Devolution of corporate tax to Northern Ireland
Back in 1997, then-Chancellor Gordon Brown made his name by giving interest-rate setting powers to the Bank of England – a move which boosted his approval ratings in the City of London.
Earlier this month, the British government confirmed that it would grant Northern Ireland more financial independence. According to David Cameron, the move would allow it to compete with the neighboring Republic of Ireland, which has a corporation tax rate of 12.5 percent.
However, while the devolved government authorities in Belfast have welcomed the decision, others have been wary. The Nevin Economic Research Institute has warned that a lower corporation tax would not compensate for subsequent public spending cuts decided in Whitehall, particularly as two-thirds Northern Irish GDP depends on public spending.
5.) Curbs on tax avoidance
Earlier this month, Osborne warned that technology companies were increasingly avoiding paying tax in the UK by using complex networks of offshore companies. At the Conservative Party conference, he said: "While we offer some of the lowest business taxes in the world, we expect those taxes to be paid."
While the British government has been accused of being too close to tech firms, there is a chance that the Autumn Statement will outline measures to curb tax avoidance. In particular, the Chancellor is likely to talk about establishing an international agreement between countries and global firms, and outline proposals that would allow governments more powers to tax companies for operating in the UK, rather than simply taxing their profits.