Ransom payments banned under UK anti-terror laws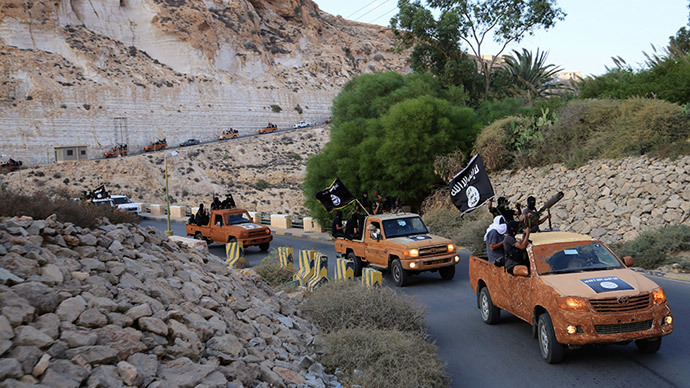 The UK government will announce an amendment to prevent insurance firms from paying ransom to terrorists to free captive British citizens in order to cut funding to "barbaric" terror groups such as the Islamic State.
The amendment comes as Home Secretary Theresa May warns that Britain is facing the greatest terror threat in its history. In an interview with the Telegraph, May said the terror inflicted by the Islamic State (IS, formerly ISIS/ISIL) means the threat to Britain is now "greater than it has been at any time before or after 9/11."
May said the Counter-Terrorism and Security Bill, due to be published on Wednesday, will state it is an offence for insurance firms to issue ransom payments. She said the measure would help end the practice of ransom payments for hostages which "only put many more lives at risk."
"Our position is clear – ransom payments to terrorists are illegal under UK and international law," May said. "Agreeing to meet the demands of barbaric groups like ISIL would only put many more lives at risk. These measures will ensure the UK remains at the forefront of global efforts to put an end to the practice."
A UN report revealed that the IS has raised an estimated $35 million to $45 million (up to £28.7 million) in a 12-month period from ransom payments, according to an unnamed UN member state.
Terror groups have been using kidnappings to raise funds. The UK and US repeatedly emphasized they have a strict no-ransom policy, while other countries, including Spain, France and Germany, have reportedly paid ransom to free their citizens.
READ MORE:Obama orders review of US hostage policy
Despite the government's policy not to pay ransom to terrorists, there are concerns that some UK-based insurance firms are inadvertently providing cover for the payment of ransoms. With this move, the government hopes firms and families will be deterred from paying ransoms if the money cannot be claimed back.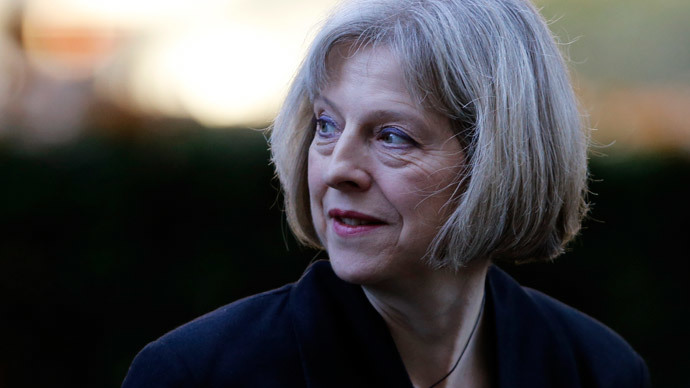 The bill also includes steps to prevent British-born jihadists who have traveled to Iraq and Syria returning to the UK and carrying out attacks, including barring jihadists from returning to the UK for at least two years and stripping teenage offenders of their passports.
May said other terror groups aside from the IS, including Boko Haram in Nigeria and Al-Qaeda on the Arabian Peninsula, and also "lone wolf" domestic attackers, pose a threat.
"There's been a lot of focus on Syria and Iraq and ISIL and people have seen the brutality of ISIL and people will have been shocked that there are British citizens actively going out to join this group when they've seen the brutality of what they do," May told the Telegraph.
"We've got that element but there are still other parts of the world where there are people plotting attacks on the West."
Other new measures introduced by the UK government to tackle the growing threat of terrorism include giving police more powers to seize data about suspected terrorists.
READ MORE:'World's wealthiest terror org': US vows to cut ISIS revenue sources
Scotland Yard Commissioner Sir Bernard Hogan-Howe has begun a nationwide terrorism awareness campaign after revealing "four or five" significant terror plots have been foiled in the UK this year.
UK counter-terrorism police will brief more than 6,000 people at various venues nationwide, including schools, airports, shopping centers, cinemas and even farms, on how to be more vigilant of potential threats.
"So far this year, we have disrupted several attack plots and made 271 arrests," said Mark Rowley, Metropolitan Police Assistant Commissioner. "They are no longer a problem solely stemming from countries like Iraq and Afghanistan, far away in the minds of the public."
"Now, they are home grown, in our communities, radicalized by images and messages they read on social media and prepared to kill for their cause," added Rowley, who is leading the UK's national counter-terrorism policing campaign.
This summer, Britain's terror threat level was heightened from "substantial" to the second highest level "severe" amid concerns over hundreds of British jihadists potentially returning to the UK to launch attacks having fought for terror groups in Syria and Iraq.
You can share this story on social media: