National Health Service workers strike in pay battle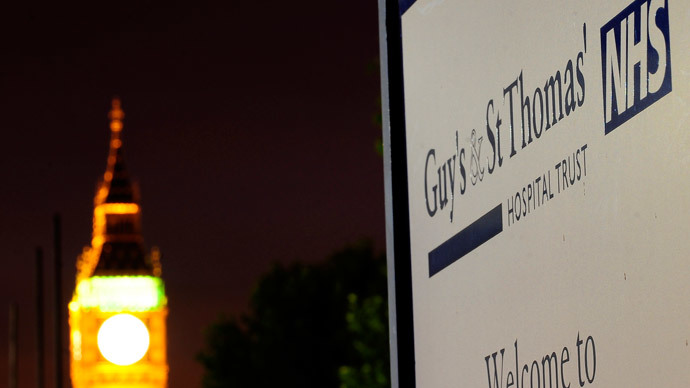 Over 400,000 NHS workers, including midwives, nurses, radiographers and psychiatric staff, have taken action as part of an ongoing battle with the government over pay. The strikes follow a decision to reject a proposed 1 percent pay rise.
Four hours of industrial action began at 7am in England and 8am in Northern Ireland on November 24. It included NHS employees from 11 different unions.
The latest strike is the second NHS walkout in a month, something which Unison leader Dave Prentis said should "sound alarm bells ringing" in Westminster.
On October 13, for the first time in history, NHS midwives staged a four-hour walkout as part of the continuing fight for fairer pay.
NHS staff at Whiston Hospital strike for fair pay #NHSpay#24novpic.twitter.com/rDDX1aVeAK

— Karen Viquerat (@KarenV_Unite) November 24, 2014
Suggestions from the NHS Pay Review body (PRB) included a rise of 1 percent for all NHS staff, but Prentis insists the pretense under which the pay rise will be implemented is "ludicrous," saying "it is simply not true."
Unions have already agreed a pay rise with the administration in Scotland and Wales, leaving England and Northern Ireland without the proposed raise.
Anger at Health Secretary Jeremy Hunt has increased, with unions claiming he has erected a "Berlin Wall of intransigence."
Prentis said support for NHS workers was widespread.
"The strength of feeling is far from fading and the dispute far from going away," he said.
"If the secretary of state seriously thinks staff are the NHS's best asset then he needs to treat them fairly," he added.
Speaking to RT, one striking nurse criticized the government for neglecting to offer NHS staff a pay rise.
"It feels as though incredible every-day hard work of NHS staff is not valued by our current MPs," she said.
Mental health nurse Will Knight asked, "How can they accept the pay review board recommendations for their own pay rises of 11 percent, yet say NHS staff don't deserve 1 percent, despite the extra hours and incredibly stressful nature of the work we do?"
.@bbcnews saying nurses, paramedics, midwifes etc offered 1% payrise. Untrue. Overwhelming majority offered 0%. #nhsstrike@BBCr4today

— Marcus Chown (@marcuschown) November 24, 2014
Unions hope the latest strikes will result in the "immediate" payment of the PRB-recommended pay rise, and further implementation of a national living wage for its lowest-paid staff.
NHS union Unison said the public health service had been "singled out" as the one public entity which had been denied the PRB-proposed rise.
With @davyjones4ktown in support of fair #nhspay#24nov@unisonSEpic.twitter.com/JxcTCzgrhW#nhsstrike

— Caroline Lucas (@CarolineLucas) November 24, 2014
"We are only asking for decent pay for the hard-working people the government say they care so much about," Prentis added.
Knight further said as a newly-qualified nurse it was "disheartening" to think he might not be able to keep up with increasing costs by doing a job which helps others.
He further said a pay rise would help increase the levels of morale within the NHS.
"A minimum living wage alongside regular pay increases will help improve morale greatly and give staff even more reason to continue putting their all into supporting the people we care for and bolstering the NHS as a whole during difficult times."

NHS staff on strike for fair#NHSpay#24nov7am-11am. Here's a map of Unite pickets in England:https://t.co/pA1CrXNPLC
— UniteInHealth (@UniteinHealth) November 24, 2014
A Department of Health spokesman said "NHS staff are our greatest asset and we want to make the current pay system fairer."