​'Plague on our pavements': Chewing gum manufacturers asked to foot street clean-up bill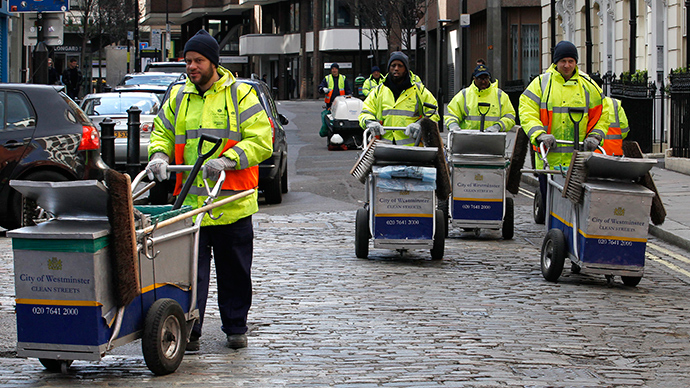 To battle a plague of used chewing gum spots on the sidewalks in the streets of the UK and Wales, the national voice of local government has requested gum manufacturing firms to contribute to £60 million to annual removal costs.
The Local Government Association (LGA), which speaks for almost 400 councils in England and Wales, says that it costs 50 times more to clean up the gum from the streets than it costs to purchase it, as the process requires special cleaning equipment.
"A plague on the country's pavements," is costing the councils £1.50 on average to remove a chewing gum spot, most of which never biodegrade. The LGA has also asked gum manufacturers to switch to production of biodegradable gum to make cleanup efforts easier.
"Chewing gum is a blight which costs councils a fortune to clean up and takes hours of hard work to remove. It's ugly, it's unsightly and it's unacceptable," LGA Peter Box said in a press release.
The association says gum on the pavements is reaching critical proportions in the center of towns and cities. Basing their conclusions on 3 case studies conducted in Westminister, Manchester and Milton Keyes, LGA lays the blame for dirty street paths on the manufacturers.
"The UK gum industry is a multi-million pound business and we believe in the principle of the 'polluter' paying. The chewing gum giants should be making a substantial contribution to help with the sterling work that councils are doing in removing it," Box says.
In the city of Westminster Council 6 tons of gum are spit out on the streets annually, that is almost three million pieces. That accounts to 25 pieces of gum on average per meter of pavement. In Manchester, that figure stands at 800,000 pieces of gum annually.
Councils which have no legal obligation to scrape of the gum are currently doing it for the benefit of people.
"They are doing the right thing but unfortunately the manufacturers are not. We acknowledge firms are contributing to litter prevention campaigns. However, given the size of the bill faced by councils in these tough economic times, this isn't cutting the mustard," Box said.
The call to make manufacturers pay, is receiving positive feedback from council members.
"We support the LGA's call. Dealing with the sticky mess of discarded chewing gum on our streets swallows a huge amount of resources, in terms of both money and man-hours," said Councillor Ed Argar, Westminster Council's Cabinet Member for City Management, Transport and Infrastructure.
You can share this story on social media: