Assange's extradition order upheld by Swedish Court of Appeal
Sweden's Court of Appeal announced on Thursday that WikiLeaks founder Julian Assange's arrest warrant will be upheld by the Scandinavian state. Assange's lawyer said shortly after his client will take take his case to Sweden's Supreme Court.
The Scandinavian Court of Appeal issued its verdict on the Wikileaks Editor-in-chief's drawn-out extradition case on Tuesday.
Assange's arrest warrant surfaced in 2010 in the of wake sexual assault allegations leveled at him by two Swedish women.
The Wikileaks founder, who strongly denies the allegations of sexual misconduct and rape, avoided extradition to Sweden by seeking refuge in London's Ecuadorean Embassy in Knightsbridge.
While the Swedish court upheld Assange's arrest warrant Tuesday, it has noted prosecutors lack new evidence to progress with the sexual assault case against him.
In June of this year, the WikiLeaks editors' lawyers filed an official request to Stockholm District Court to overturn its decision to detain him without charge. The court scheduled the hearing for July 16. Following the court's failure to revoke Assange's extradition warrant, he launched an appeal.
The case, set to progress to Sweden's Supreme Court, marks the country's most drawn out deprivation of liberty in the absence of a trial or charges in its legal history.
#Swedish court rejects #Assange appeal to revoke arrest warrant http://t.co/4kjGbYuY7E via @YahooNews

— Dakoda (@Dakoda_1022) November 20, 2014
At this juncture, Assange has not been charged with a crime. Nevertheless, he has remained a refugee in London's Ecuadorian Embassy for 24 months. He has resided there under the South American government's diplomatic protection.The WikiLeaks editor managed to secure political asylum in the face of a US criminal investigation against his organization two years ago.
If Assange is deported to Sweden, he will likely face espionage charges in America over his role in publishing sensitive, classified US government documents.
Chelsea Manning, a US soldier previously known as Bradley Manning, is currently serving a 35-year prison sentence in the US for disclosing the files to WikiLeaks.
The damning documents created unwelcomed embarrassment for the US government and its allies, and raise serious questions about the American administration's conduct during the 'War on Terror'.
#Wikileaks update: Swedish court confirms extradition order against #Assange. Notes investigation has come to a halt. pic.twitter.com/424xIRvaSZ

— José Miguel Sardo (@jmsardo) November 20, 2014
While Sweden's authorities are virulently pursuing the WikiLeaks founder with respect to allegations of sexual misconduct and rape, the American administration are pursuing him on suspicion of espionage. Assange is also wanted by UK authorities.
The besieged Ecuadorian Embassy in which he resides is surrounded by police 24-7. Britain's police force have encircled the Ecuadorian embassy, where Assange has sought refuge, at a remarkable cost of £6.6 million.Critics of the international manhunt that has befallen him argue the costly police presence around the Knightsbridge embassy has been utterly futile, and amounts to nothing other than the flaunting of state power.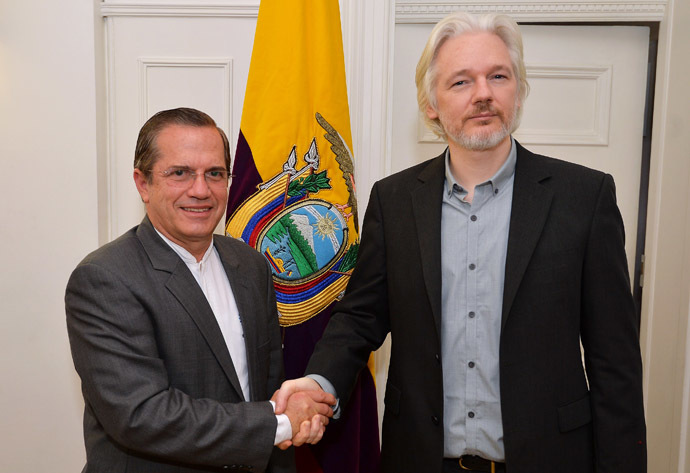 Supporters of Assange argue his real crime has been to tell the truth in an epoch dominated by lies, government deception and brutal war. The Australian has fought his extradition to Sweden in Britain's courts for over two years.
He chose to do this on the grounds that, without reasonable safeguards, extradition to the Scandinavian state would leave him highly vulnerable to being deported to the United States.
Should Assange be forcibly deported to Swedish soil, the Scandinavian government has repeatedly refused to guarantee he will be shielded from further extradition to the US.
As distinct from multiple other cases, Sweden's prosecutor has consistently shunned the offer to interrogate him online or in London. Rather, she insists Assange forgo his fundamental right to political asylum and face questioning in Sweden.
In June of this year, 56 international human rights and free press organizations signed a letter addressed to US Attorney General Eric Holder calling upon the US government to terminate all criminal investigations into Assange's actions as Editor-in-Chief of WikiLeaks and to cease harassing the organization for publishing content in the public interest.
Nevertheless, the investigation prevails and both Britain and Sweden have refused to guarantee Assange will not be deported to the United States should his upcoming Supreme Court appeal in Sweden fail.
You can share this story on social media: