'Country X': WikiLeaks reveals NSA recording 'nearly all' phone calls in Afghanistan
The NSA records almost all domestic and international phone calls in Afghanistan, similar to what it does in the Bahamas, WikiLeaks' Julian Assange said.
Reports in the Washington Post and the Intercept had previously reported that domestic and international phone calls from two or more target states had been recorded and stored in mass as of 2013. Both publications censored the name of one victim country at the request of the US government, which the Intercept referred to as 'Country X'.
Assange says he cannot disclose how WikiLeaks confirmed the identity of the victim state for the sake of source protection, though the claim can be "independently verified" via means of "forensic scrutiny of imperfectly applied censorship on related documents released to date and correlations with other NSA programs."
WikiLeaks cannot be complicit in the censorship of victim state X. The country in question is #Afghanistan. https://t.co/vWwU4DJw0I#afpak

— WikiLeaks (@wikileaks) May 23, 2014
The Intercept, which Glenn Greenwald, who first broke the Edward Snowden revelations helped to found, had earlier named the Bahamas as having their mobile calls recorded and stored by a powerful National Security Agency (NSA) program called SOMALGET.
SOMALGET is part of a broader NSA program called MYSTIC, which the the NSA is using to gather metadata – including the numbers dialed and the time and duration of the calls – from phone calls in the Bahamas, Mexico, Kenya and the Philippines. SOMALGET by its nature is far more controversial, however, as it stores actual phone conversations for up to 30 days.
WikiLeaks initially opted not to reveal the name of 'Country X' as they were led to believe it could "lead to deaths" by Greenwald. WikiLeaks later accused The Intercept and its parent company First Look Media of censorship, saying they would go ahead and publish the name of the NSA-targeted country.
"We do not believe it is the place of media to 'aid and abet' a state in escaping detection and prosecution for a serious crime against a population," Assange said in the statement.
"By denying an entire population the knowledge of its own victimization, this act of censorship denies each individual in that country the opportunity to seek an effective remedy, whether in international courts, or elsewhere," he said.
#WikiLeaks reveals name of #NSA's target country X below: AFGHANISTAN. http://t.co/gK2eMSpCcbpic.twitter.com/p1kP4KGCGU

— The Pirate Org (@PirateOrg) May 23, 2014
Assange continued that their decision to identify 'Country X' was not only done so as to provide effective legal remedies against "the crime of mass espionage," but also to prevent innocent lives from being taken due to how covert surveillance is part and parcel of the US drone program.
"We know from previous reporting that the National Security Agency's mass interception system is a key component in the United States' drone targeting program," Assange said.
"The US drone targeting program has killed thousands of people and hundreds of women and children in Afghanistan, Pakistan, Yemen and Somalia in violation of international law. The censorship of a victim state's identity directly assists the killing of innocent people."
Regarding the potential threat to human life, Assange continued that "false or overstated claims" is a regularly employed tactic by US officials to delay or altogether stifle publication.
Assange pointed to the 2010 example of the now Infamous WikiLeaks release of diplomatic cables, in which the US State Department "falsely claimed" would "place at risk the lives of countless innocent individuals." He continued that the Pentagon had also repeated this unsubstantiated claim.
"To this day we are not aware of any evidence provided by any government agency that any of our eight million publications have resulted in harm to life," Assange said.
He added that in 2013, US officials were compelled to admit under oath they had been unable to find evidence substantiating the claim, with former Defense Secretary Robert Gates admitting that official reaction to the publications had been"significantly overwrought."
According to The Intercept, 5 countries are being monitored using MYSTIC, two with full content audio and three where telephony metadata is collected. The Washington Post, however, noted that a six country is also under the NSA's cross hairs, though surveillance operations might not yet be operational.
The collection of phone conversation audio is not limited to the Bahamas and Afghanistan. In March, John Inglis, then serving as NSA Deputy Director, told the Los Angeles Times that the NSA tracks and records every email, text message, and phone-location signal sent in Iraq.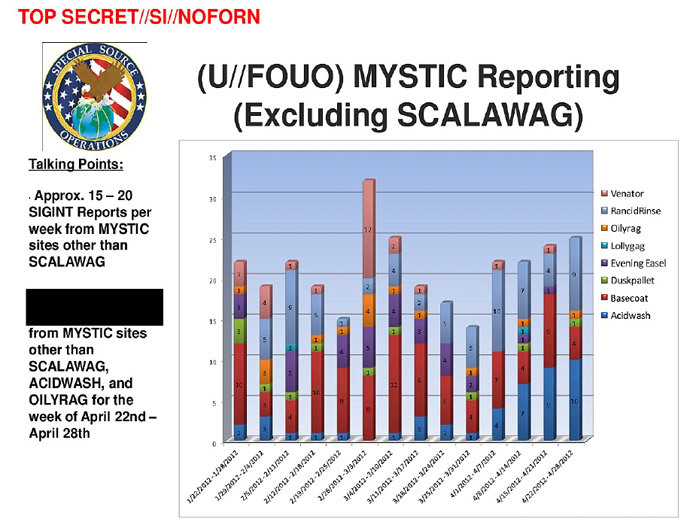 This is not the first time it has been revealed mass surveillance was being conducted on Afghanistan by the NSA. According to a book released by Der Spiegel entitled 'Der NSA Komplex', a program called ACIDWASH collects 30-40 million telephony metadata records per day from Afghanistan. ACIDWASH has been identified as being part of the MYSTIC program.
The NSA has so far refused to comment on the program, saying "the implication that NSA's foreign intelligence collection is arbitrary and unconstrained is false." The agency further maintains that it follows procedures to "protect the privacy of US persons" whose communications are "incidentally collected."
You can share this story on social media: