Bitter by-election battle begins, more Tory defections to UKIP predicted
Published time: 20 Nov, 2014 13:47
Edited time: 20 Nov, 2014 13:49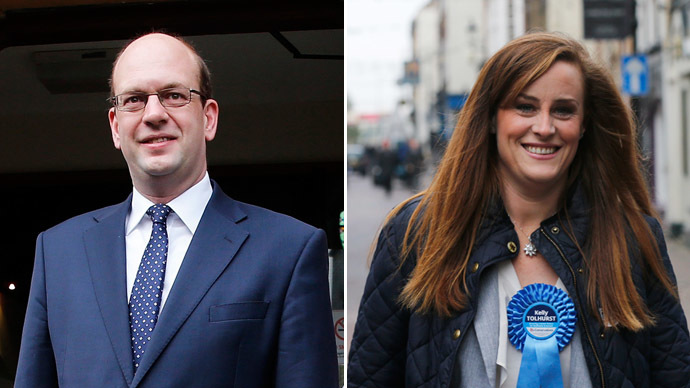 Britain's Euroskeptic UK Independence Party (UKIP) and David Cameron's Conservative Party embarked on a bitter Rochester and Strood by-election battle on Thursday, brought about by a former Tory MP's controversial defection earlier this year.
Mark Reckless' decision to abandon the Conservatives surfaced just a few weeks after his close friend and colleague Douglas Carswell did the same in Clacton. In a landmark victory for UKIP in early October, Carswell seized a by-election seat and became the party's first MP.
Thursday's by-election is predicted to earn UKIP its second Commons seat.
Polling stations opened at 7am in the north Kent constituency, with the Conservatives and UKIP deemed frontrunners. Both parties have campaigned ferociously in the run-up to the election to woo the loyalty of voters.
The polls are due to close at 10pm, with the result expected early on Friday.
Reckless is standing against Conservative candidate Kelly Tolhurst, Labour's Naushabah Khan, Liberal Democrat contender Geoff Juby, the Green Party's Clive Gregory and others.
In 2010, Reckless won the coveted Kent seat for the Conservative Party with a landslide 49.2 percent of the vote. Ed Miliband's Labour Party lagged behind in second place with a mere 28.5 percent, followed by the Liberal Democrats, the English Democrats and the Greens.
On Wednesday evening, Reckless ramped up pressure on his former Tory bosses, warning a further two Conservative MPs were also contemplating leaving the governing party and embracing UKIP if he emerges victorious on Friday.
A further string of defections would likely spark a crisis at Number 10 over an ongoing erosion of the Conservatives' southern strongholds as the countdown to next year's general election ensues. It could also threaten Cameron's leadership of the party itself.
Today we ask: will the Rochester and Strood by-election be one small step for Man, one giant leap for nominative determinism? #Reckless

— Richard Dixon (@Linguagroover) November 20, 2014
On Wednesday, Communities Secretary Eric Pickles expressed full confidence in a Tory victory. He also dismissed Reckless' suggestion of further defections.
Speaking to the Guardian, he said the Conservatives had rescued Britain's economy from the brink of meltdown, while UKIP's proposed policies are regressive and rooted firmly in the past.
Nevertheless, Reckless' warning of further defections has triggered a torrent of speculation about who the non-committal Tories might be. Peter Bone, a staunchly Euroskeptic Conservative MP for Wellingborough, has been hailed as a possibility. He is due to argue at a debate in Cambridge on Thursday that UKIP has been a welcomed presence on Britain's political horizon.
Probed by the Guardian on whether he might defect, Bone failed to deny the possibility. Rather, he called for members of Nigel Farage's party to forge a closer alliance with the Conservatives on Britain's center-right stage.
Another potential defector is John Baron, MP for Basildon and Billericay, who previously declared he would "never say never" to the possibility of defection.
Following his questioning of Cameron on Wednesday about government action on veterans of nuclear testing, Baron was afforded an attentive prime ministerial response in the House of Commons.
A UKIP victory will be highly embarrassing for the PM in light of his former promise to do everything in his power to ensure this seat remains Tory. Tolhurst described the by-election as a "two-horse race."
She called upon voters to cast a strategic vote on Thursday, suggesting anyone who normally votes for Labour, the Lib Dems or otherwise should back her unless they wish to "wake up to a UKIP MP on Friday 21 November."
By contrast, UKIP staff and politicians gathered this morning for a somewhat premature victory lap of Rochester town in a specially-branded bus.
#Reckless: Immigrants, go back to your own country. This, right here and now, the ugly lurch to the far right. Politicians, wake up.

— Mohammed Ansar (@MoAnsar) November 19, 2014
Ukip & the Tories are 2 sides of the same coin. Vote #Reckless get ex Tory MP. #RochesterandStrood#TogetherWeKhanpic.twitter.com/XgsBuMdvAz

— Labour Left (@LabourLeft) November 20, 2014