'Deal with the devil': Farage mulls UKIP-Labour coalition, Miliband voted worst leader ever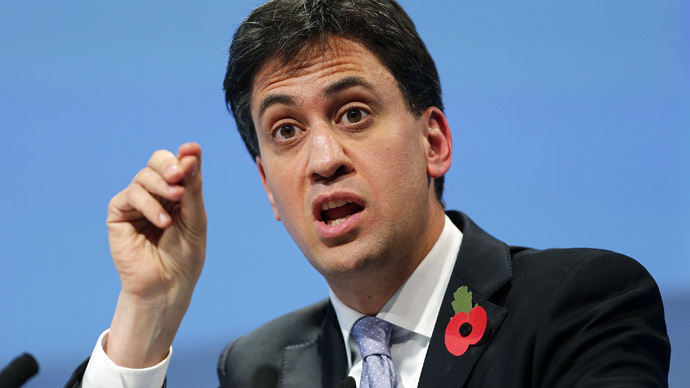 New polling data shows less than 20 percent of UK voters think Labour leader Ed Miliband could realistically become prime minister after the general election. Meanwhile, UK Independence Party (UKIP) leader Nigel Farage is mulling a Labour coalition deal.
The poll, produced by IPSOS MORI, shows that more than half of traditional Labour voters aren't happy with Miliband's leadership, while among the general electorate only 13 percent believe he would be ready to enter Downing Street were an election held tomorrow.
Miliband's low rating now makes him the least popular leader in the UK, even in comparison to UKIP leader Nigel Farage, whom 30 percent believe is ready to become a government minister.
The dismal poll rating comes after a turbulent month for the Labour leader, whose position has been called into question by senior Labour MPs.
"If the numbers carry on like this he will have to go by Christmas, irrespective of whether there is someone waiting in the wings to take over. We cannot go into a general election knowing we are going to lose,"a Labour source told the Evening Standard.
Ed Miliband's poll numbers have been in free-fall since his election, it's not a new thing. #bbcdppic.twitter.com/ux38PXfCss

— Ben (@Jamin2g) November 10, 2014
IPSOS Mori's analysis of 40 years' worth of party leader ratings further shows Miliband to be the most unpopular leader in this electoral cycle, polling lower than his predecessors Gordon Brown and Neil Kinnock.
"The interviewing for this poll was conducted at the height of the very public discussion of a possible challenge to Ed Miliband's leadership of the party – and it looks like it's had a significant effect on public opinion," said Ipsos MORI head of public affairs Bobby Duffy.
"The Labour leadership will clearly hope that this marks a low point – they've lost the lead to the Conservatives in overall voting intention, but they're still within touching distance, despite all the negative coverage."
The poll ratings follow statements by Nigel Farage that UKIP would not rule out a coalition deal with Labour at next year's general election.
Asked by the New Statesman this week about such a coalition deal, Farage said: "I'd do a deal with the Devil if he got me what I wanted."
However, Farage saw the prospect of a coalition with Labour and the Liberal Democrats as "extremely unlikely," adding that he couldn't "see UKIP willfully going into formal coalition with anybody."
"I'd be very comfortable supporting anybody that gave me an opportunity to get my country back," he said.