Church of England greenlights female bishops
Published time: 17 Nov, 2014 21:43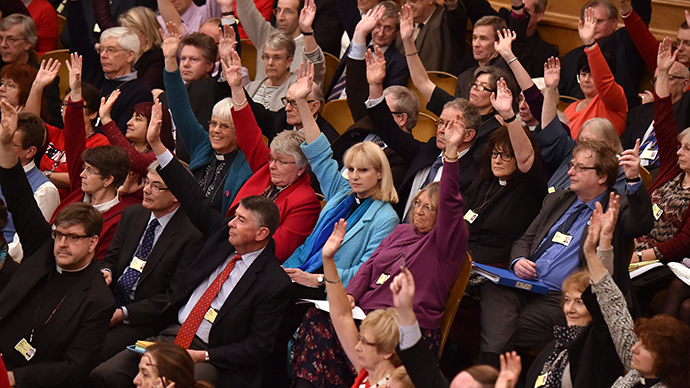 In a historic vote on Monday, Church of England leaders finalized legislation allowing women to become ordained bishops.
The general synod, the Church's law-making body, passed the change to cannon law with an overwhelming majority in London. Only 30 people out of 480 voted against it.
The Archbishop of Canterbury, Justin Welby, described the radical move – first proposed in July – as "a new way of being the Church."
Though female priests were first ordained in 1994, women were not permitted to take senior posts within the Church hierarchy until now.
Archbishop Welby announced that the Church is already in the process of training women for the posts. The first female bishops are expected to be ordained next year.
"We are working very hard at training – the aim is that you end up with a big pool of people where gender is irrelevant. We are going to take this very, very seriously," he said.
Archbishops @JustinWelby and @JohnSentamu signing the instrument of enactment to enable women to become bishops pic.twitter.com/eEJSnrWxh7

— Church of England (@c_of_e) November 17, 2014
The move marks the culmination of years of internal schisms and debates within the Church. A similar bid was defeated when six synod members voted against it in 2012.
Hilary Cotton, chairwoman of Women and the Church, is optimistic that the reform might lead to an overhaul of church culture.
"It is not just about having women wearing purple, it is about changing the culture of the church to be more equal," Cotton said.
"The stained-glass ceiling is finally being shattered," said synod member Christina Rees, who has campaigned for women in the Church for the past 25 years.
The change is marked by an addition to Cannon 33, stating that "a man or a woman may be consecrated to the office of bishop."
Archbishop Welby said: "Today we can begin to embrace a new way of being the church and moving forward together. We will also continue to seek the flourishing of the church of those who disagree."
Not all members of the Church, however, welcomed the change. The conservative evangelic Reform faction believes that "the divine order of male headship" specifies that women are not meant to lead dioceses.
Currently women make up about a third of the clergy. Archbishop Welby predicts that in 10-15 years, women could account for half of all Church of England bishops.
To manage dissent, the Church has provided safeguards in the legislation, including a provision which will introduce independent monitors to oversee arrangements for parishes that insist on oversight from a male bishop.
The instrument of enactment enabling women to become bishops: pic.twitter.com/5JqgEcNNrR

— Church of England (@c_of_e) November 17, 2014