Call me Mx! RBS announces 'gender neutral' banking, alternative to 'Mr' & 'Mrs'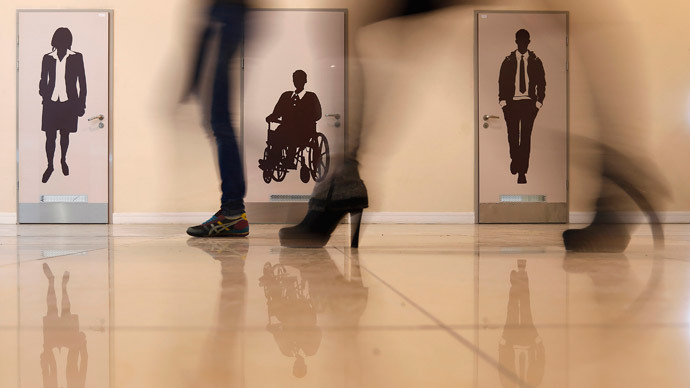 The Royal Bank of Scotland (RBS) will no longer ask for your mother's maiden name as a security question, in order to include LGBT people. The bank may also offer account holders the option of using 'Mx' instead of the gender normative 'Mr' or 'Mrs'.
RBS announced the changes in order to allow their banking practice to reflect the diverse nature of modern society, The Times said.
The bank's staff will undergo training to help them deal with customers who are in the process of changing gender.
Global Head of RBS's Inclusion program, Majorie Strachan, said asking for the maiden name of an account holder with two mothers or two fathers would be problematic.
"We're looking at unconscious bias," Strachan told The Times. "If we think about something as simple as using neutral language, that can be a good starting point."
She added the bank had "considered" the gender neutral title 'Mx'.
Speaking about the changing terminologies surrounding gender change, Strachan said it could be "extremely upsetting" if a customer undergoing gender reassignment "walks into a branch and doesn't have an easy option in explaining their needs."
"[The 'Mx' title is] something we're looking at as one of the options, although we've usually followed the same nomenclature that the census would use," she added.
RBS already has an internal support group which promotes the rights of its LGBT staff members.
The group, called Rainbow Network, aims to promote LGBT rights both within the bank and through supporting charities.
A spokesman for Stonewall, the gay equality campaign group, told The Times: "The best businesses in 21st century Britain are ones who respond to the needs of all their customers, that includes LGBT people, people with two dads, or people who change their gender."
Other UK banks are also looking at ways to include the LGBT community. A Lloyd's spokesperson said their bank was fully committed to adjusting their policies to fit with the changing needs of society.
"We continually review our policies and procedures in relation to sexual orientation and gender identity to ensure we are meeting the needs of our LGBT customers and colleagues," he said.
Last week, the openly gay Chief Executive of HSBC urged business leaders to address issues of sexual orientation.
"We're in London, we're in 2014," he said. "It's not acceptable that we take for granted all the work done by others on issues such as marriage equality."
"There's a huge personal responsibility to come out and to be out."
The new measures, however, have courted criticism. In a piece for The Telegraph, columnist Richard Holt condemned the measures, saying he felt they were disingenuous.
"It feels more like an expensive attempt to place a giant, fuzzily inclusive sticking plaster over RBS's battered reputation," he said.
You can share this story on social media: