Effigies of Putin, Salmond paraded through southern English town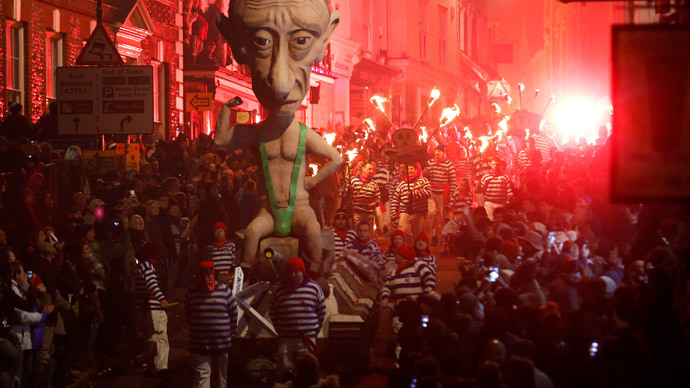 While many spent Wednesday night watching fireworks displays, a Sussex town celebrated Guy Fawkes Night by parading, and then burning, effigies of famous public figures – notably Russian President Vladimir Putin and Scottish First Minister Alex Salmond.
The effigies were paraded around Lewes, a small town on the south coast of England, on Wednesday afternoon.
One Salmond effigy depicted him with a lifted kilt, the other showing him with Nessie, the Loch Ness Monster, and holding a wooden spoon branded "45" – a reference to the percentage of Scots who voted for Scottish independence in September and the 1745 Jacobite rebellion against rule from London.
Salmond effigy WAS burned at English bonfire parade http://t.co/dHqYPQZLEDpic.twitter.com/yeMhXu38ZF

— Evening Express (@EveningExpress) November 6, 2014

Bizarrely, one effigy of the Russian president depicted him dressed in a green leotard, while another showed him holding a gun and crushing a plane resembling Flight MH17, which was shot down in Donetsk, Eastern Ukraine in August.
— Tom Parfitt (@parfitt_tom) November 6, 2014

In previous years, Lewes residents have burned effigies of other notable figures, including German Chancellor Angela Merkel, and the current leaders of the UK's coalition government, Prime Minister David Cameron and Deputy Prime Minister Nick Clegg.
Only effigies of Putin were burned, following anger on social media about the plans to burn replicas of Salmond.
Sussex police said they would be investigating after receiving a number of calls complaining about the Waterloo Bonfire Society, responsible for the Salmond effigies.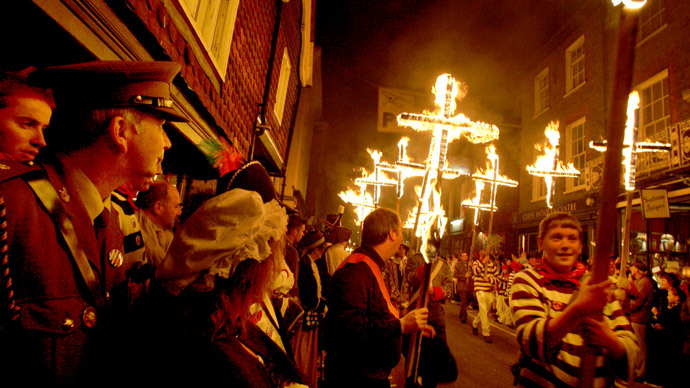 "Let's imagine for one second what would happen if an SNP-run council burned an effigy of David Cameron. Lordy," tweeted Mhairi Hunter, one of Salmond's supporters.
Let's imagine for one second what would happen if an SNP run Council burned an effigy of David Cameron. Lordy.

— Mhairi Hunter (@MhairiHunter) November 5, 2014
The First Minister took it all in stride, but protested the effigies of Nessie.
"I think it's totally outrageous," Salmond told BBC News. "I mean, what has Nessie ever done to East Sussex Conservative Party?"
"I'm in pretty good company, Angela Merkel … she got the burning treatment from East Sussex council. So I think the judgment's askew, but if they think I'm a threat, like Guy Fawkes … then they're right," he added.
You can share this story on social media: