Gerry Adams effigy hangs from loyalist bonfire in N. Ireland (PHOTOS)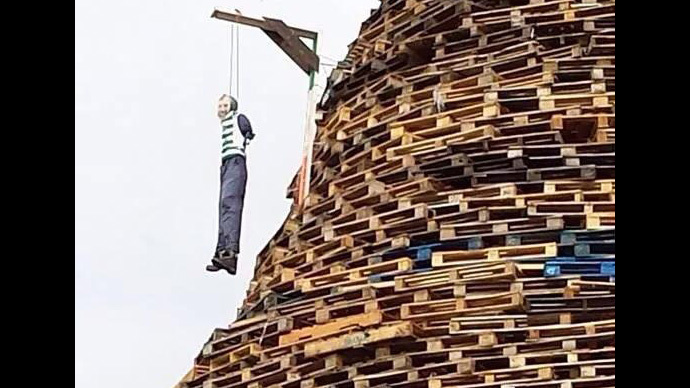 A massive unionist bonfire has been set alight in Belfast with a figure of Gerry Adams wearing a Celtic football shirt. A number of Irish tricolor flags also went up in smoke to mark the annual Eleventh Night celebrations.
A Facebook page marking the event read, "Gerry Adams is always hanging about in Ballycraigy."
Effigy of Gerry Adams being hanged appears on Ballycraigy bonfire and is reported as a hate crime: http://t.co/l6tKd7DnDW

— Victoria Steveley (@vsteveley_utv) July 11, 2014
Adams is the president of Sinn Fein, a republican political party that wants Northern Ireland to split from Britain and join the Republic of Ireland in the south.
Gerry Adams is worried there us an effigy of him on Ballycraigy bonfire. Pity his concern never extended to those burnt at La Mon

— George McCutcheon (@geordi_blue) July 11, 2014
The leader has asked his solicitor to register the case with the Police Service of Northern Ireland as a hate crime.
Bonfires lit across Northern Ireland to mark the 11th of July pic.twitter.com/UOZ9A0Gen8

— Off The Record (@offtherecordNI) July 12, 2014
"The figure of a lynch victim on a bonfire is not a welcoming sight for anyone," he said.
There was more controversy earlier in the week, when posters of Alliance MLA MP Anno Lo and Sinn Fein MEP Martina Anderson were placed on bonfires.
Smoke hangs over #Belfast tonight as Eleventh Night bonfires are lit #photographypic.twitter.com/ijG2PM2CEn

— Jon (@byebyethecheese) July 12, 2014
The tradition of lighting bonfires across loyalist areas of Northern Ireland goes back to the 17th Century, when fires were lit along the banks of Belfast Lough to guide William of Orange and his fleet of ships to Carrickfergus when he arrived in Ireland in 1690.
In Pictures: Eleventh night bonfires http://t.co/OJKMjKZ7kMpic.twitter.com/pUVILJCKf3

— Belfast Telegraph (@BelTel) July 12, 2014
The bonfires are often accompanied by street parties. They have been widely condemned for showing sectarian and ethnic hatred, as well as for the pollution they cause.
Eleventh night, Belfast. #twelfthpic.twitter.com/rHvoBumYHi

— David Thompson (@dt_ni) July 11, 2014
Four people had to be led to safety by firefighters after a bonfire began to affect the roofs of three houses in Belfast on Friday night. The Northern Ireland Fire and Rescue Service said that 58 calls were made in relation to bonfires.
You can share this story on social media: