Assad allies invent British jihadist death for political ends – think tank
Published time: 6 Nov, 2014 14:07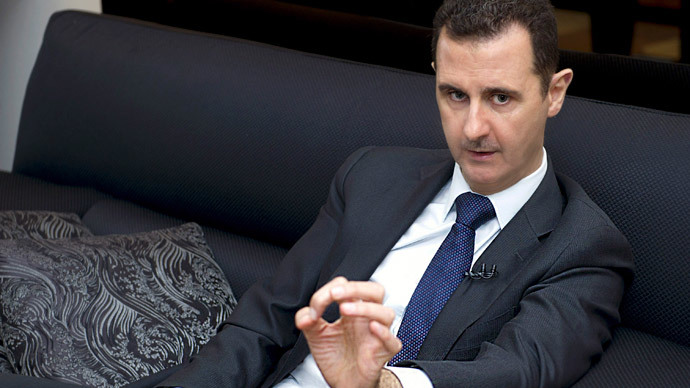 Advocates of the Syrian president circulated false media reports about a deceased British Islamic State militant to deflect attention from the regime's alleged war criminality, a counter-extremism think tank says.
Pro-Assad media organizations released William Hassmour Kaleenak's name and picture, alleging he was one of two Islamic State (IS, formerly ISIS) jihadist fighters killed in the eastern Syrian city of Deir ez-Zor. The outlets claimed both militants were field commanders fighting on behalf of the IS.
But the supposed photograph of Kaleenak appears to be false and, according to a Google+ page featuring it, actually shows a Chechen fighter known as Bakr al-Gharib.
Experts suggest supporters of the Assad regime have waged an attempt to manipulate Western disgust at British jihadists' contribution to vicious beheadings and bloody massacres orchestrated by the IS, in a propaganda ploy.
Charlie Winter, a leading researcher and expert on militant Islamist movements based at UK counter-extremism think tank the Quilliam Foundation, told the Times that pro-Assad media outlets were attempting to capitalize on horror felt around the world at the IS' brutal tactics.
"I think it's an attempt to say, 'Listen, we are fighting on the same side as the coalition, we are fighting a fight that's more important than our own people,'" he said.
The misleading image was released by an Arabic media outfit called Only God – a maneuver that reportedly had the full backing of Assad.
Shortly afterwards, the pro-Assad regime Al-Masdar News published a related story, but without the image. The report alleged on Monday the supposedly deceased Kaleenak's "British passport was discovered among his possessions."
The photograph behind the fiasco is thought to have originated from a series of pictures taken during the second Chechen War, fought in Russia's south.
The misleading image and false story were rapidly picked up by Western media outlets and mistakenly connected to Abu Abdullah al-Britani, a British-born jihadist fighter with alleged links to Islamic State affiliates detaining and decapitating Western captives in the Raqqa province of northern Syria.
Anonymous sources close to Islamic State militants stressed the reported deaths in Deir ez-Zor had not officially been confirmed, the Times says.
The Organization for the Prohibition of Chemical Weapons (OPCW), a body which implements the Chemical Weapons Convention (CWC) and is party to 190 states across the globe, warned in September there was "compelling evidence" that chlorine gas had been deployed by Assad forces in Syria.
The report said chlorine was used specifically in the northern Syrian villages of Talmanes, Al Tamanah and Kafr Zeta.
Syria officially announced its support for the global struggle against IS militants in September, and warned of the severe danger the jihadists pose.
The US State Department announced last week it plans to terminate funding for the Commission for International Justice and Accountability, which is investigating alleged war criminality by Assad. Syrian officials have persistently denied the regime's deployment of chemical weapons.