Riot police on standby for London Million Mask March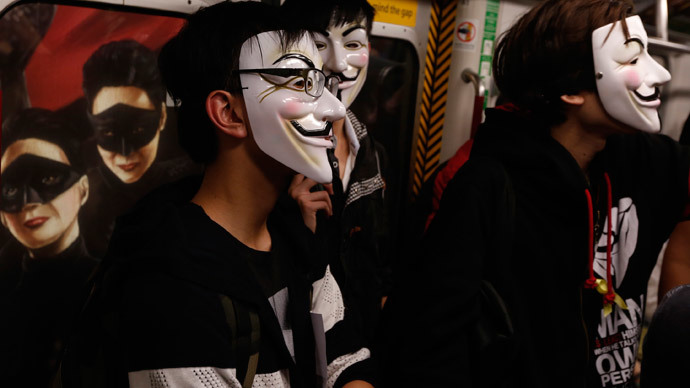 Barricades have been erected in London's Parliament Square and hundreds of police officers are on standby after protesters announced intentions to "blockade" the center of the capital.
UPDATE:Tense stand-off between Million Mask March protesters and police in London
In anticipation of the Million Mask March on November 5, officers from the Metropolitan Police, British Transport Police and the City of London Police Force will be on duty, with many others on standby.
In their invitation to the Million Mask March, Anonymous activists announced they intend to to cause traffic chaos in the capital:
"What I'd like to see is a MASSIVE Anonymous blockade of London City," the demo's website said. "Complete physical GRIDLOCK. Only thing that gets through are Fire & Rescue and ambulances. NOTHING ELSE MOVES."
The demonstration has been called by the hacktivist group Anonymous, whose manifesto states they protest against austerity, mass surveillance and human rights abuses.
The London march is part of a day of global demonstrations, which include rallies across Europe, the Americas and Asia.
We do not forgive,We do not forget. #anonops#Anonymous Remember, Remember, the 5th of November. #MillionMaskMarchpic.twitter.com/LRl4anHceK

— Andrew Frederick (@Afrederick35) November 5, 2014
Last year's London march saw more than 2,500 protesters take to the streets, in a rally which saw fireworks thrown at Buckingham Palace and a total of 15 arrests.
The heightened security measures come as the Metropolitan Police attempted to contact Anonymous, but no one came forward with any details.
"We are keen to talk with them to ensure they are able to protest; it is important that they talk to us so that we can work together to achieve a safe and successful event," said Chief Superintendent Pippa Mills.
Rather than communicate directly with local authorities, Anonymous sent a message to the government, and to global world leaders: "To oppressive governments, we say this: we do not expect our campaign to be completed in a short time frame. However, you will not prevail against the angry masses of the body politic."
'Remember, remember, the 5th of November' #VForVendettapic.twitter.com/iHyPjLDQmc

— Keen on films (@Cinemaniaticos_) November 5, 2014
The group further addresses the British government, saying they have "made an enemy of Anonymous," and that they have "angered them considerably."
Speaking to RT, one source from the Anonymous movement said, "It's a night of grievance on a night that's historically about parliament and how it's not always working in the people's interests."
"We burn an effigy of Guy Fawkes on a fire each year as a warning against standing against parliament so we just felt it would be symbolic," the source said.
The Million Mask March was due to begin at 1800 GMT from Trafalgar Square.
You can share this story on social media: