Bungled Halloween event met with armed police and helicopter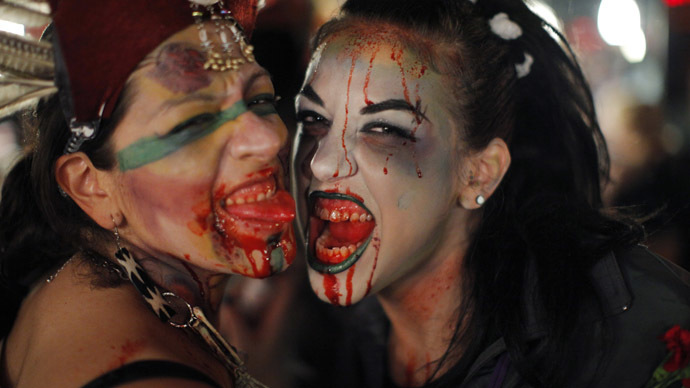 Armed police officers and a helicopter intercepted a Halloween event on Sunday, following a tip-off from a passerby who witnessed a group being forced into a van by gun wielding men in balaclavas.
Following the raid, it emerged the group were merely participating in a Halloween-inspired event, dubbed 'Outbreak.' A brainchild of events company White Knuckle, it was scheduled to take place on Sunday in West Sussex.
As part of the horror-themed affair, ticketholders met at a clandestine location in Brighton where they were escorted to the South Downs. The event's participants were informed they would clamber in darkened areas, and were likely to get filthy and wet in the process.
READ MORE:Jack-o'-Lantern mayhem: Pumpkin fest leads to drunken injuries, arrests (VIDEO)
The event's coordinators claimed Sussex police had been informed of White Knuckle's plans, but acknowledged police officials had to treat all reports of suspicious activity seriously.
When police arrived on the scene, many Outbreak participants assumed the officers were merely part of the act, a spokesman for the event told the Guardian.
"It was definitely a case of crossed wires. As soon as they realized the guns were plastic, it all ended very quickly," the spokesman said.
"One of our cast members even thought we had set them up and it was all part of the day."
A spokeswoman for Sussex police told the Guardian the force had been contacted on Sunday evening by an individual who had witnessed armed men masked in balaclavas. She said the men, who were clad in black, appeared to be holding rifles.
Commenting on the fiasco, Superintendent Rex Matthews warned the public against carrying fake firearms in public.
"The threat level from international terrorism in Britain is currently assessed as severe and there have been a number of terrorist plots thwarted. People are being asked to remain vigilant and to report anything that is suspicious," he told the Guardian.