​Assange's 'day in court' may come in Ecuador's London embassy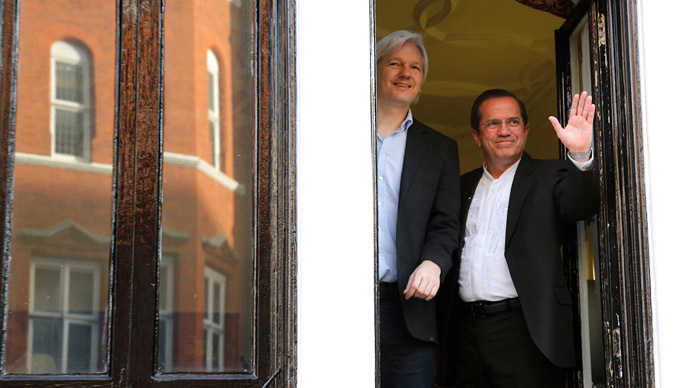 The British government has invited Sweden's chief prosecutor to question Julian Assange, prior to a court hearing in Sweden, on whether to withdraw a warrant for his arrest on rape charges.
The UK Foreign Office said it would "actively welcome" a request by the Swedish prosecutor, Marianne Ny, to question Assange in the Ecuadorian embassy in London, before a Swedish court decides on whether to pursue the arrest of the Australian native, The Guardian reported on Wednesday.
READ MORE: Swedish prosecutors keep up arrest warrant against Assange
"These are matters for the [Swedish] prosecutor to decide on, but if she wished to travel here to question Mr Assange in the embassy in London, we would do absolutely everything to facilitate that. Indeed, we would actively welcome it," Hugo Swire, Minister of State for the Foreign and Commonwealth Office, told the House of Commons.
According to The Guardian, Ny responded through a spokesperson that the British invitation was "news to her," and she would probably provide a response in the next few days.
Assange achieved both fame and notoriety in 2010 when his WikiLeaks whistleblowing site released classified US documents leaked by US Army intelligence officer Chelsea Manning. Wanted by the United States for divulging state secrets, and by Sweden on alleged rape charges, Ecuador granted Assange political asylum in 2012. Since then, he has lived at the Embassy of Ecuador in London, described in detail in his Affidavit.
BREAKING: UK gov blames Swedish prosecutor for 4 years uncharged detention of #Assangehttps://t.co/HqEb01wXT0#svpol@niklassvensson

— WikiLeaks (@wikileaks) October 28, 2014
After Assange failed to meet the October 27 deadline to appear in Sweden for questioning over rape accusations, the Swedish court was prepared to issue its ruling regarding his warrant.
Swedish activist and politician Lars Christian Engstrom said there are two reasons [for the prosecution not lifting the warrant]: "One is the prestige on account of the prosecutor, the second one is almost certainly that the US administration is making it known to Swedish authorities that they would like it very much if they kept Mr Assange where he is and leave it as it is," Engstrom told RT.
Anne McIntosh, a Conservative MP, put a delicate diplomatic turn on the invitation when she said: "Presumably the prosecutor would have the time to pop over and speak to [Assange] before the Appeal Court ruling."
Anne Ramberg, head of the Swedish Bar Association, told the British daily on Tuesday: "Many voices in Sweden take a view along the same lines [as the Foreign Office]. It is time for this longstanding matter to be brought to a fair and proportionate end."
A spokeswoman for the Foreign Office was quoted as saying that details of the proposal "should be agreed between the Swedish Prosecutor, Mr Assange and the Ecuadorian Embassy."
According to govwaste.co.uk counter, the cost of London police staking out Assange's Ecuadorian residence is over $15,000 per day.
You can share this story on social media: