Assange plans to leave embassy 'soon', no details given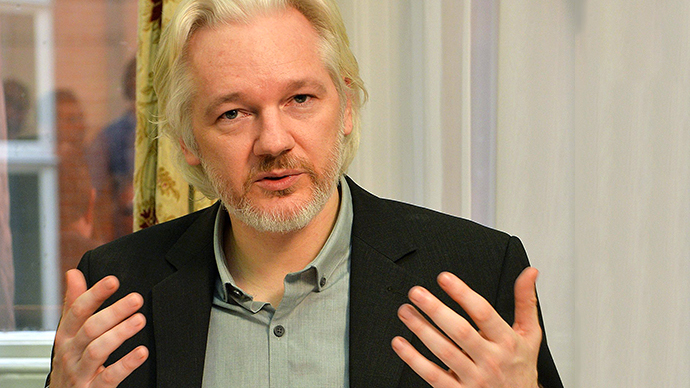 Julian Assange plans to leave the Ecuadorian Embassy in the near future, he told a press conference at the embassy's London compound, where he's been holed up for two years. The WikiLeaks founder gave no further details.
"I am leaving the embassy soon, but perhaps not for the reasons [reported]," he told journalists, refusing to clarify what his reasons are.
Speaking at the conference, he recounted the ordeal of having to hide from prosecution in a case where for four years no charges have been leveled. This has led to a serious deterioration of his health, including heart problems.
Assange:UN human rights states that even prisoners must have minimum 1 hour outside a day.He does not get that because no garden at embassy

— Polly Boiko (@Polly_Boiko) August 18, 2014
He listed a host of reasons he believes to be at the center of the injustice taking place in his situation.
"Throughout this entire time I have not been charged," he spoke. "Europe is meant to be a place where the rule of law is respected, where basic rights are respected... but somehow a situation has developed where basic rights that we have previously universally accepted are no longer respected."
The whistleblower continues to flatly deny any rape allegations, which have not been backed up by any formal charges.
Ecuador's Foreign Minster Ricardo Patino was was also present at the conference to defend Assange. He spoke of the continuing efforts on the part of Assange's legal team and the govenrment of Ecuador to bring the situation to a close in a manner that satisfies both the Ecuadorian and the Swedish legal systems. However, they have not come to fruition.
Patino: Swedish prosecutors should be able to take evidence remotely via video link

— Polly Boiko (@Polly_Boiko) August 18, 2014
He saw Assange's stay at the embassy as "two years of great uncertainty and lack of justice for everyone," because, while "the effective legal protection of [the whistleblower] has been breached" and no progress was made in the case, the same was true for the Swedish women who are the alleged victims at the other end.
"We continue to be ready to talk to the British and Swedish governments," Patino said. But "It is time to free Julian Assange, it's time for his legal rights to be respected."
One of the whistleblower's closing remarks was to question exactly what kind of legacy US President Barack Obama would like to leave.
Extradition law changed
The reasoning behind Assange's announcement is a change to the European arrest warrant, director of the Center for Investigative Journalism, Gavin MacFadyen, told RT.

"The law has changed in a sense that no one now in Britain can be extradited against their will to a country without being charged. And of course as everybody knows what is significant about Julian Assange's difficulties is that he's never been charged," MacFadyen said.

"Either in Sweden by anyone - no one has put anything to him in a court that he could refute or argue against, or even see the evidence of. He is also not been able to do that in US, where the trial against him is in a form of a secret, unpublicized grand jury that has been meeting for three years at a cost to millions of dollars. And there's been no evidence there of any kind that would result in changes," he added.

MacFadyen denied rumors that this was a play for media attention.

"They are all exhausted. It has been a very trying period for them. Julian isn't particularly well. There certainly wasn't a play for media attention because the issue of him leaving is a very serious, very important issue. Julian to be held as he is now is actually against that law. I think we will see some important changes in the weeks ahead."
You can share this story on social media: