Zambia's President Sata dies in London, Africa's first white leader in 20 years takes over
Published time: 29 Oct, 2014 14:47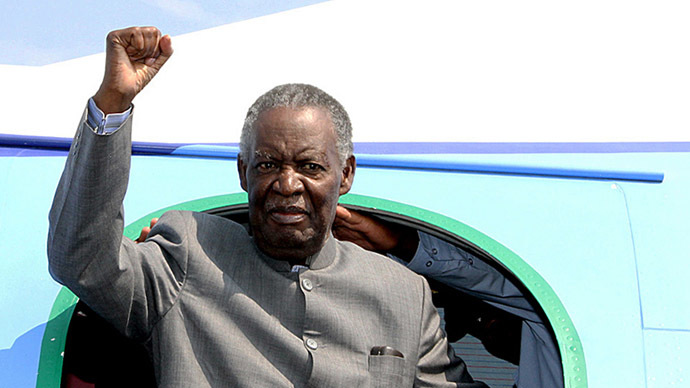 President of Zambia, Michael Sata, died on Tuesday at a London hospital, the government announced on Wednesday. Sata, nicknamed "King Cobra" because of his allegedly abrasive manner, was 77. Guy Scott, a white Zambian, was chosen as acting president.
Sata passed away at London's King Edward VII hospital, although the cause of death has not been made public.
He disappeared from the public eye in June and was later reported to be receiving medical treatment in Israel.
Sata flew to the British capital 10 days ago for what officials called a "medical checkup abroad." He and the Zambian government repeatedly denied rumors that he was suffering from a terminal illness.
The late president's wife, Christine Kaseba, and son Mulenga Sata, were at his bedside at the London hospital, according to Roland Msiska, the cabinet secretary in Lusaka.
"Sata was more than a public servant. He was a passionate competitor, a man of conviction and determination," Rupiah Banda, Sata's predecessor, said in a statement. "Above all, Michael Sata was a Zambian, in body, soul, and spirit."
UK's foreign secretary, Philip Hammond, said he was "saddened" by the death of Sata who "played a commanding role in the public life of his country over three decades."
Michael Chilufya Sata was born in Mpika, in the north of the country, which was then under British rule and known as Northern Rhodesia. He reportedly spent some time in London, where he worked as a sweeper and porter at Victoria station. Sata became president of Zambia in 2011.
Zambia celebrated 50 years of independence from Britain last Friday, a milestone which Sata was forced to miss.
The government met on Wednesday in the capital Lusaka to determine an interim leader until elections can be held within the next 90 days.
Vice president Guy Scott, who is now Africa's first white head of state since South Africa's Frederik Willem de Klerk stepped down in 1994, was chosen as interim president, AP reports.
Until Sata's death, the acting president of Zambia was Edga Lungu, the defense minister.
According to the nation's constitution, Scott will serve for 90 days until a fresh election is held. Cambridge-educated economist Scott told the Daily Telegraph his sudden promotion was "a bit of a shock to the system."
"Everyone is getting used to calling me 'Your Excellency,' and I'm getting used to it. There are truckloads of guys following me on motorbikes. It's very strange."
READ MORE:What archives? UK ordered destruction of 'embarrassing' colonial papers
Scott was born in Livingstone, Zambia, after his father emigrated to Northern Rhodesia from Glasgow in 1927. His English mother moved to Zambia in 1940.
Scott studied mathematics and economics at Cambridge, has a doctorate in cognitive science from Sussex University and has lectured and researched robotics at Oxford. Two of his sons and his daughter live in Britain.