​Govt immigration policy slammed by MPs, thousands of migrants camp at French border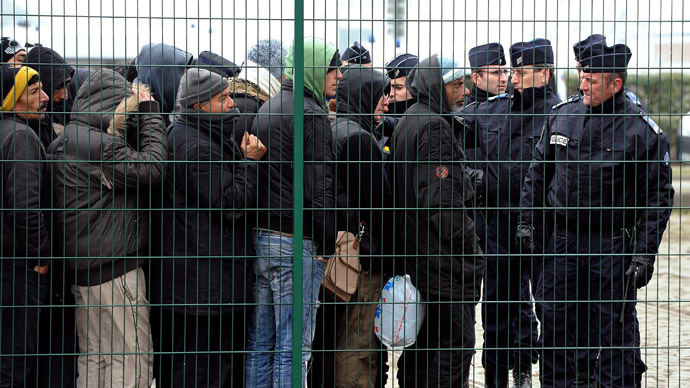 MPs have called Britain's immigration system 'a mess' and have urged Prime Minister David Cameron to take a 'tougher line' on the issue before the next general election in a new report published on Wednesday.
The report, produced by the all-party Public Accounts Committee (PAC) said the current system could not keep track of the number of migrants coming in and out of the UK each year.
It also claimed the government had potentially lost track of over 11,000 asylum seekers who had been denied citizenship through legal channels.
The report follows a controversial decision made by the Home Office to end British support for search-and-rescue operations for migrants entering Europe through the Mediterranean, despite the British Refugee Council warning the measure would cause more people "needlessly and shamefully dying on Europe's doorstep."
"The pressure is on and the Home Office must take urgent steps to sort out this immigration mess," said the PAC chair and Labour MP Margaret Hodge.
"The department should, as a matter of urgency, take more steps to identify people who remain in the UK illegally and speed up their removal," she added.
The report suggests that at the end of the 2013-14 financial year, more than 175,000 applications from migrants requesting to stay in Britain were rejected, although it was unknown how many left the country.
The report's publication also follows comments made by UK Defence Secretary Michael Fallon, who told a Sunday morning talk show audience that some British towns were being "swamped" and "under siege" by immigrants, a comment that was endorsed by former Labour secretary David Blunkett.
Immigration is likely to be a key issue at next year's general election, particularly in light of recent electoral gains for anti-immigration parties such as the United Kingdom Independence Party (UKIP), who earlier this month secured its first parliamentary seat in Clacton-on-Sea.
On Tuesday, a parliamentary panel heard testimony from the mayor of Calais in France Natacha Bouchart, who told the Home Affairs Select Committee that thousands of migrants were travelling through the channel port to enter Britain because of "much more favorable" welfare benefits.
Bouchart told MPs that around 2,500 illegal immigrants were camped out in Calais, with many coming from Eritrea, Ethiopia, Syria and Iraq, adding that Calais had also seen a rise in "mafia and traffickers" as a result.
Additionally, Conservative minister Nick Boles told Total Politics Magazine on Tuesday that the Government had taken "draconian" measures to limit movement from outside the European Union, but that migrants could easily enter the UK through Europe because of its laws on free movement.