Fish-ocide! British tuna firms killing 1,000s of endangered sea creatures – Greenpeace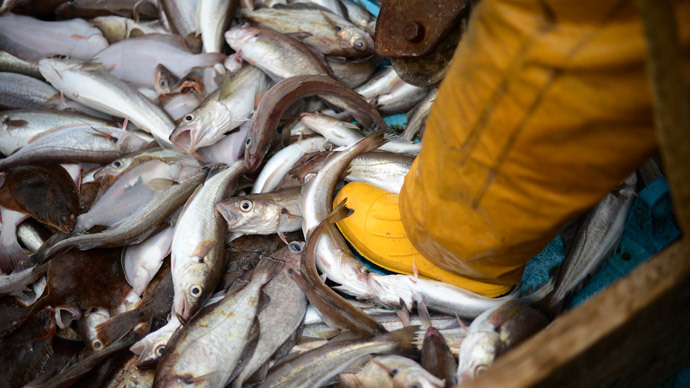 A shocking new video campaign produced by environmentalist group Greenpeace claims to show cruel and "unnecessary" methods used to catch tuna, killing thousands of sharks, dolphins and rare sea creatures in the process.
The group claim that two of the UK's biggest distributors of tuna, John West and Princes, still use the method to catch their fish, despite other major supermarkets opting for alternative methods.
The video, published on Tuesday, shows fisheries in the UK, Italy and Australia using fish aggregating devices (FADs) to catch tuna in the Indian Ocean – large mechanical nets designed to catch thousands of tuna fish at a time.
However, the video purports to show how other sea creatures - included endangered species – often get caught up in the nets and in many cases die as a result. The video also shows fishermen dumping the dead animals back into the ocean.
"The fish aggregating devices are designed to attract tuna but they also attract all sorts of other marine life," Greenpeace oceans campaigner Nathaniel Pelle told the Daily Mail.
"When you use those two methods in combination you end up catching large amounts of incidental species you don't mean to catch."
According to Greenpeace, less than a quarter of Princes' tuna is free from FADs, despite a promise to go 100 percent FAD-free by the end of 2014, while John West have allegedly backtracked on their promise to cease using the method.
"Send a message now to Princes and John West to tell them to stop killing sharks, turtles and rays. We won't accept broken promises. They must keep their word and protect our oceans," the Greenpeace campaign says.
In documents seen by the Guardian, John West allegedly expressed concerns about the "availability" of FAD-free stocks of tuna, adding that they could not stop other animals being taken into the net.
"We are a responsible business whose core principles focus on a holistic approach to fishing sustainably," a spokesperson from John West said.
"We must recognize that fishing gear and fishing methodologies are important, but only part of the solution to ensuring the sustainability of stocks."
The spokesperson also said the firm was developing methods to "implement sustainable business solutions" in the future.
It is estimated around two-thirds of all seine tuna, including the yellowfin and bigeye variations, are caught using FADs, despite warnings from international bodies including the European Union, who have warned that the method reduces the biological reproduction of tuna.
Campaigners urge fishermen to use the "pole and line" method to catch fish, used in countries such as Senegal and Indonesia.