​House of Commons security review after Ottawa shooting – MP
Published time: 23 Oct, 2014 12:19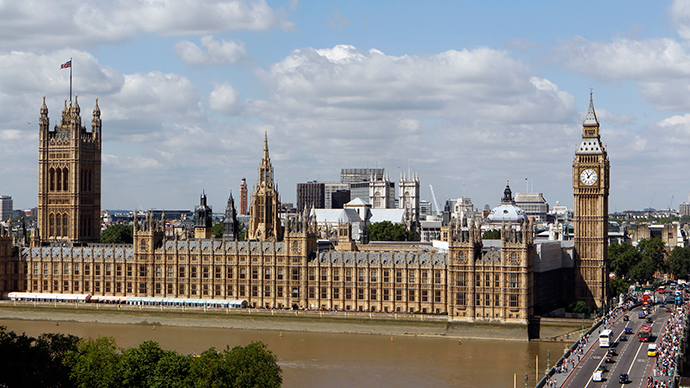 A senior British politician and former cabinet minister is calling for a review of the House of Commons' security procedures and infrastructure in the wake of Wednesday's shootings in the Canadian parliament.
Peter Hain, a Labour politician who served under Prime Ministers Tony Blair and Gordon Brown, said it would be "prudent" to assess the security situation at Westminster, and that he was sure security staff were "urgently reviewing" safety procedures.
"I think it would be prudent to review everything in light of Ottawa, but I believe that our procedures are much more rigorous than in 2004, when security was a joke," he said.
READ MORE:Ottawa gunman 'identified' as recent Muslim convert, high-risk traveler
Hain, who also served as the Leader of the House of Commons, introduced tough measures to ramp up Parliamentary security in 2004.
His reforms came after a series of security breaches by activist groups, including child custody campaigners Fathers4Justice, who threw a condom containing purple powder at Blair from the Commons public gallery.
A man was also taken into police custody on Wednesday after allegedly throwing marbles at the glass screens around the public gallery during Prime Minister's Questions.
While the Sergeant at Arms, who wears a traditional uniform and sword, is formally responsible for the security of Parliament, the job is mostly carried out by security director Paul Martin, a former MI5 agent.
"The security authorities at the Houses of Parliament are monitoring the developing situation in Ottawa," a House of Commons spokesperson said.
"The authorities here remain vigilant, and measures appropriate to the current threat level in the UK continue to be taken on the parliamentary estate."
Following the attack in Ottawa, UK Prime Minister David Cameron offered condolences and support to his Canadian counterpart Steven Harper.
Cameron has also expressed concerns of similar terror strikes in the UK, inspired by the Islamist milita group Islamic State, warning that the group's activities in Syria and Iraq could inspire 'copycat' attacks on British soil.