Conman fakes 2-year coma to avoid court
Published time: 22 Oct, 2014 13:53
Edited time: 24 Oct, 2014 08:46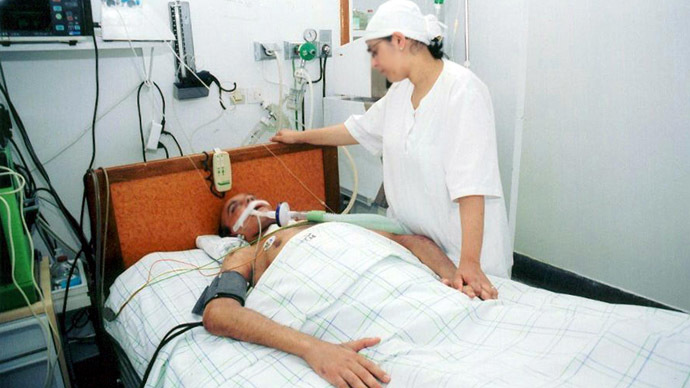 A fraudster who stole £41,000 from his neighbor avoided court for two years by pretending to be in a coma.
Alan Knight, from Sketty in Swansea, claimed to be caring for an elderly neighbor with dementia, when in fact he was stealing in excess of £41,000.
Knight systematically "drained" Ivan Richards' bank accounts, took money from his shares, and used the cash to fund holidays in Dorset and on a caravan.
"This is the most calculated, long-term deception of a vulnerable, elderly neighbor I have ever seen," said DC Paul Harry, lead officer on the case.
Richards, who is now in a care home, has reportedly been reimbursed by his bank.
The court heard that Knight, who claimed to suffer neck-down paralysis, was caught on CCTV shopping in a supermarket and driving across the Severn Bridge, having previously said he was too ill to stand trial.
Over the course of two years, the conman avoided court by claiming he suffered from debilitating illnesses including quadriplegia, seizures and slipping into comas. He was living on benefits, which he claimed following a supposedly crippling neck injury.
Officers tried to take him to court "at least twice," but each time he avoided prosecution by claiming that his condition had worsened.
"He has wasted thousands of pounds of NHS money going to places like Singleton and Morriston Hospitals," to undergo testing for his apparent conditions, only to leave without diagnosis, DC Harry said.
Knight's wife, Helen, aided her husband's fraudulent behavior by posing in photographs showing her caring for her apparently comatose husband.
The conman appeared in Swansea Crown Court on October 21 in a wheelchair and neck brace, where he admitted to 19 accounts of forgery, fraud and theft.
He further admitted to writing a false will for Ivan Richards, claiming that he was the sole beneficiary.
During the hearing, Judge Thomas showed Knight the footage of him apparently in full health – some taken as recently as August 2014 – so he could "come face to face with this in a literal and metaphysical sense."
The footage displayed Knight pushing a trolley through a branch of Tesco – an appearance later confirmed by the use of his discount club cards.
"There are aspects to this case which in my experience are unique and it seems a strong message needs to be sent out to anyone who seeks to adopt the same tactics in future," Judge Thomas said.