​'My bus, my rules': Gay couple ordered off London bus for kissing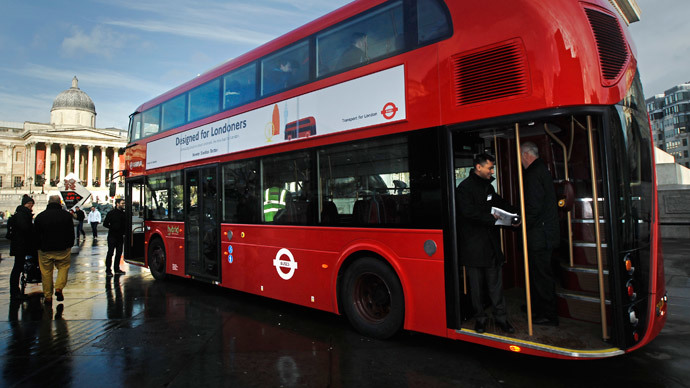 A London transport employee is under investigation after he allegedly threw a gay couple off his bus after he saw them kissing.
Jack James, 23, and his partner were on board an 89 bus near Blackheath in South London when the driver allegedly made homophobic comments.
He is alleged to have said to the couple: "Oi, you two, don't do that on my f***ing bus or you can get off, I don't want to watch that."
When James asked the driver if he was referring to him and his partner, the Transport for London (TfL) employee said: "Yes, it's my bus, it is my rules, and I don't want to watch that, it's disgusting, get off the bus."
James also told the Evening Standard the driver had said they were not real men. The alleged incident occurred on August 8 at around 10.30pm, James said.
TfL said it was looking at CCTV footage from the bus.
"All customers have the right to use our services without fear of being abused, and offensive behavior is completely unacceptable," Ken Davidson, TfL's head of bus operations told the Evening Standard.
"We would like to reassure Mr James that this matter is being taken very seriously and that a thorough investigation is being conducted by Go Ahead."
Bus driver managed to drive bus AND spy on passengers kissing. http://t.co/5DRMQC7NOY

— Andrea Liu (@awyliu) October 20, 2014
The driver is said to be on leave, and will be questioned when he returns to work.
Earlier this month, a lesbian couple was told to stop kissing at a Sainsbury's supermarket, when a complaining customer said it was "disgusting."
Annabelle Paige, a student at the University of Sussex, and her girlfriend were at a Brighton branch when a security guard told them to stop kissing or to leave the shop. The store denies the couple was asked to leave.
Paige told the Times: "I'm so shocked and upset about it. I get that if another customer is uncomfortable that's a bad thing [...] but the problem is the other customer was in the wrong and essentially being homophobic. The guard didn't seem to understand that, I was absolutely humiliated."
The incident sparked a protest and forced the supermarket to apologize to the couple.