#TarpaulinRevolution: London police storm Parliament Square occupation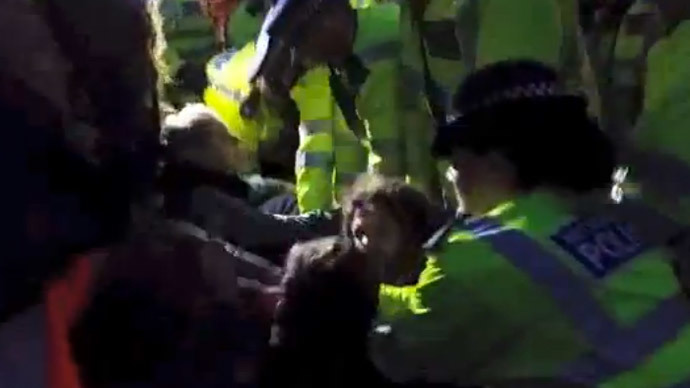 Police arrested one man and others were injured after hundreds of officers applied force in attempts to evict Occupy Democracy protesters from Parliament Square on Sunday night.
Following two days of peaceful occupation and protest, dubbed the #TarpaulinRevolution and #OccupyTarpaulin on Twitter, over one hundred police officers descended on the group, using force to seize the tarpaulins making up their makeshift camp.
On social media there were reports of officers kicking protesters. One activist described the levels of force used to remove the tarpaulins as "unnecessary."
Still surrounded, some occupiers dragged away, hundreds of police #parliamentsquare#occupydemocracypic.twitter.com/vki5816lK6

— Joseph Todd (@josephalextodd) October 18, 2014
Police claimed demonstrations had violated the Police Reform and Social Responsibility Act 2011, which states that possessing items that could be used for sleeping in Parliament Square is illegal.
One protester set up a live video feed of the violence on the website Bambuser, and others quickly reported the extreme measures taken by the police.
British policing is becoming increasing surreal as pizza box deemed a piece of sleeping equipment.

— Occupy Democracy (@occupydemocracy) October 20, 2014
Police issued a 30 minute warning to the activists, who were told to leave or face arrest, before they began forcibly removing the tarpaulins. The use of force caused outcry on social media, with claims that police measures were disproportionate.
Guess that's proportional policing? 140 police, mass arrests, violence, helicopters - all for a tarpaulin? #occupydemocracy#olsx

— Occupy Democracy (@occupydemocracy) October 19, 2014
Self-styled radical Russell Brand was spotted amongst the crowd delivering pizza, eager to shed the label of "bogus revolutionary" given to him by Piers Morgan in a recent Twitter spat.
The protests were initially staged in solidarity with Occupy Democracy in Hong Kong. Scenes of Chinese police brutality have sparked outrage on social media.
So, David Cameron totally believes in protesters right to occupy Hong Kong, but has protesters arrested in Central London. Hypocrite.

— Glyn Gasson (@gassonglyn) October 19, 2014
Protesters accused Prime Minister David Cameron of hypocrisy. They pointed out that Cameron had spoken out in defense of the Hong Kong protesters last Wednesday, yet had employed force to quell domestic protests.
Cameron's support for the Hong Kong movement came after footage was released on the October 14 of Hong Kong police applying force to control demonstrators.
Mainstream media covers Hong Kong, but look what the Met are up to outside British P'ment. http://t.co/BMLRDwZgFl#London#occupydemocracy

— WISE Up Wales (@WISEUpWales) October 20, 2014
One activist's blog commented, "If a progressive movement can gauge the effect it's having from the response of the State, then the Unions should be ashamed of themselves, and the Occupy movement should be cheering loudly."
Having pizza at #occupydemocracy, Parliament Square, these kids are like radicalised ninja turtles. pic.twitter.com/eyBGSbmbpo

— Russell Brand (@rustyrockets) October 19, 2014
The occupation took place during a mass demonstration organized by the Trade Union Congress on Saturday. The TUC estimated some 80,000 people attended the 'Britain Needs a Pay Rise' march and rally, which aimed to highlight how far the real value of workers' pay has dropped since the financial crisis began.
You can share this story on social media: