HIV drug cutting transition risk 90% may be offered on NHS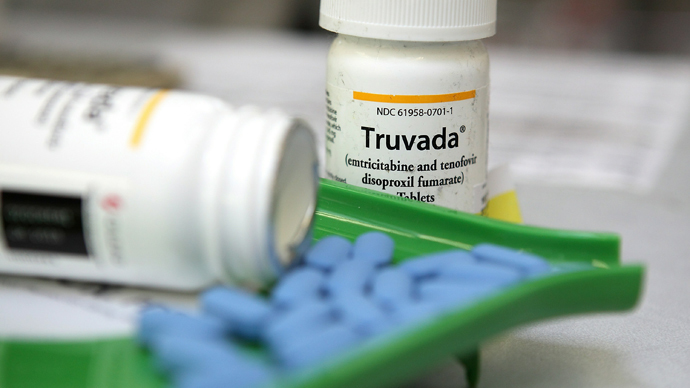 A drug that can lower the risk of contracting HIV by 90 percent could soon be offered on the National Health Service, after a ground-breaking trial delivered encouraging results.
When a UK trial showed the drug Truvada could enhance protection against HIV among men practicing unsafe sex, campaigners called on the NHS to offer the drug.
Truvada, providing pre-exposure prophylaxis (PrEP), has been hailed as the most significant breakthrough against the virus in a generation.
In the pilot, 545 gay men were recruited through sexual health clinics. Because of the clear results, all of them will be given the drug immediately.
Researchers in the US claim if the pill is taken daily it can reduce the risk of contracting HIV by 90 percent. Truvada was approved for use in the US in 2012.
The drug is given to people who are HIV-negative but at a substantial risk of contracting the virus, including those who practice unprotected sex or inject illicit drugs.
READ MORE:AIDS epidemic may be over by 2030 – UN
Due to the highly encouraging results, a two-year study into whether PrEP should be made widely available on the NHS for gay and bisexual men is now being fast-tracked.
Yusef Azad, Director of Policy and Campaigns at NAT (National AIDS Trust), told the Daily Mail the "exciting" study showed "a significant benefit in preventing HIV transmission."
"HIV transmission in the UK remains far too high, especially among gay men, and we need to add to the prevention options available," he added. "These encouraging results provide powerful evidence that PrEP should be accessible to all who need it as soon as possible."
At the end of 2013, 35 million people were living with HIV, according to the World Health Organization.
Dr Sheena McCormack, of the Medical Research Council clinical trials unit at University College London, who is leading the PROUD study, said that this could lead to a major reduction in the number of new infections.
"The exciting opportunity this offers is to make the biggest dent in the epidemic of all time. It will be better than treatment as prevention," she said.
You can share this story on social media: