Shocking: Huge rise in UK police use of Tasers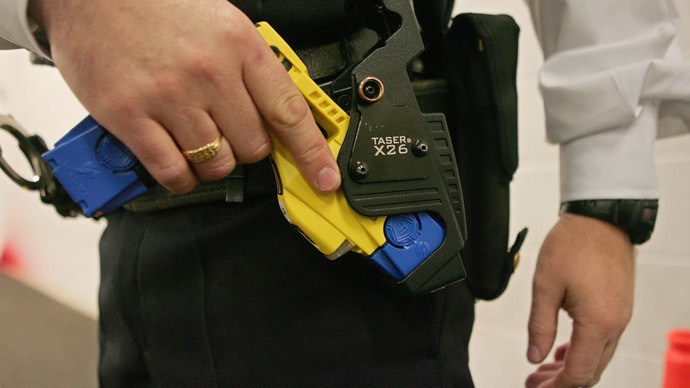 The use of Tasers by British police has continued to skyrocket, according to new figures published by the Home Office on Wednesday. However, there remains little clarity on why the weapons are increasingly used.
The figures show that the electroshock weapons, designed to stun and subdue individuals, were used 10,488 times in the past 12 months, a 13 percent rise on last year, when Tasers were employed 9,289 times.
The use of Tasers also peaked in the first six months of 2014, with the Home Office recording 826 discharges.
The data adds to fears that the weapon's massive proliferation is not keeping pace with specialized training and supervision.
Taser-carrying officers currently receive only three days of training, with a one-day annual brush-up. That is compared with the many months of firearm training officers get before being allowed to carry a gun.
While the figures from the Home Office show the frequency of Taser use by British authorities, they do not indicate when or why the measures were used.
Commenting on the Home Office figures, Amnesty International expressed concerns that some police forces seemed more willing than others to use the weapons. The charity cited data which showed West Midlands police discharged the weapon more frequently than the London Metropolitan Police, despite being a smaller unit.
"It's also a real concern that some police officers – those from Greater Manchester Police for example – are using the Tasers in the controversial 'drive-stun' mode where the weapon is used like an electric cattle prod, causing extreme pain," said Amnesty International UK's Arms Control Director Oliver Sprague.
"While the police always insist that their officers are using Tasers responsibly and on a relatively small number of occasions, the Home Office figures show that Taser use has actually quadrupled in the past five years."
Campaigners say the weapon, particularly those that can fire a 50,000 volt charge, can result in mental as well as physical damage.
"In particular, we act for those who have mental health problems or learning difficulties and where police officers failed to consider whether a Taser was justified in light of the individuals' particular needs. The inappropriate use of a Taser can result in long-term psychological damage," Irwin Mitchell solicitors' Nancy Mullins told The Telegraph.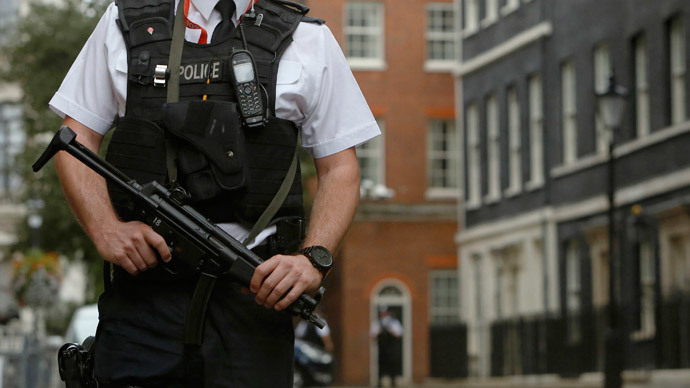 Tasers were introduced into UK police forces in 2004, to give officers an alternative to using firearms or heavy weapons such as batons. However, many activists and campaigners have warned that the police were misusing their powers.
Last year, a senior police spokesman for the Association of Chief Police Officers (APCO), Simon Chesterman, said the rise in the use of Tasers was the direct result of it being allowed for everyday police use back in 2008.
"These figures show the use of Taser has increased in line with the rollout of more weapons. There will be concerns raised by individuals that don't necessarily understand the underlying causes of the increase and there will be people raising concerns over this who don't agree with the police having Taser," he said.
The weapon works by firing a high voltage electric charge via two thin metal strips, which causes the victim's muscles to shake 'uncontrollably.'
Around 12 percent of UK police officers carry a Taser and under official government guidelines, all officers must be trained before being allowed to use one.
Earlier this year, Devon and Cornwall police were slammed for deploying Tasers on two boys aged 14 and 15, after reports of an alleged assault on a teacher at Chelfham Senior School
Similarly in March, an elderly Lancashire man was shot with a Taser after police officers mistook his walking stick for a samurai sword.
However, the police have defended Tasers as a necessary policing tool, maintaining that police forces adequately train officers in the proper use of the equipment.
"Taser is not a panacea to all occasions when police officers need to use force and will only be used in situations where officers face violence or the threat of violence," said a Taser spokesperson for the Association of Chief Police Officers, Commander Neil Basu.
"The home secretary gave additional funding to support an extension to the roll-out of Taser just over five years ago, which resulted in the procurement of around 5,500 more Tasers for distribution to forces.
"The increases in device numbers and officer training is [sic] the core factor in the increases which we have seen in today's figures."
Commander Basu also said that the figures only displayed the 'use' of Tasers, rather than the firing of electric shocks, meaning that most police only fired an infra-red laser from the weapon to be used as a warning signal.
Independent Police Complaints Commission (IPCC) data, published in July, found Taser use was the highest in Staffordshire, with shots being fired 33 times per hundred officers. In contrast, the city of London had one of the lowest rates of Taser usage.
You can share this story on social media: